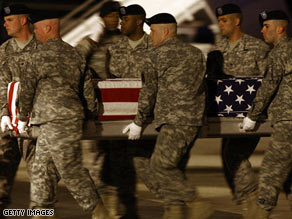 Join the conversation on Jack's blog.
Since the Obama administration lifted the ban on media coverage of fallen troops returning to the U.S., most military families are choosing to allow reporters and photographers to witness the ceremonies.
The press had been banned from covering these solemn ceremonies ostensibly to protect the privacy of the soldiers' families. Cynics suggest it was because President Bush didn't want attention drawn to the fact that soldiers were being killed in the phony war he started in Iraq.
The ban was actually imposed 18 years ago by Bush's father, the first President Bush, during Operation Desert Storm. The father of one Army corporal recently killed in Iraq said, "I think it was to protect the government's butt."
That's exactly what it was.
To read more and contribute to the Cafferty File discussion, click here