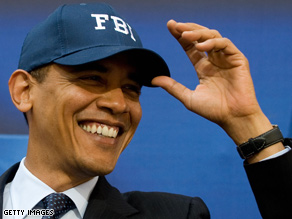 Obama got a big reaction at the FBI Tuesday.
(CNN) – An offbeat campaign-year trend carried over into President Obama's White House tenure Tuesday: as he delivered remarks at the Federal Bureau of Investigation, an overwhelmed audience member fainted away.
"Oop, did somebody faint," the president interrupted mid-sentence after a bureau employee collapsed. "Do we have a EMT here?"
The president said it wasn't the first time his speeches caused someone to pass out.
"This happened during my political campaign all the time," the president told the crowd. "I was talking too long, people would be falling out every which way. They are usually fine. They just need a little bit of air and a little bit of water."
Moments before the episode, FBI director Robert Muller handed President Obama two teddy bears for daughters Sasha and Malia along with a bureau t-shirt and baseball hat.
"I am grateful to the FBI for the t-shirts, the teddy bear for the girls. Even though we kept our promise on the dog I wouldn't want to come home empty handed," the president joked.