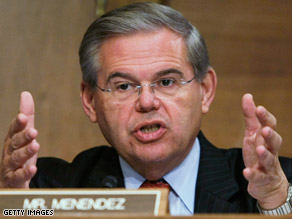 'This one's a game-changer,' New Jersey Sen. Bob Menendez said in the message.
WASHINGTON (CNN) – Just hours after Sen. Arlen Specter announced his decision to change his party affiliation, the Democratic Senatorial Campaign Committee called his action a "game-changer," using the switch in a fundraising pitch to supporters.
"This one's a game-changer," New Jersey Sen. Bob Menendez said in the message. "Specter's move immediately improves the prospects of President Obama's bold change agenda. But make no mistake – Republicans still have the votes they need to mount a filibuster. Sen. Specter's decision will make our opponents even more desperate."
Specter's decision to leave the Republican Party could give Democrats a 60-vote, filibuster-proof majority if Democrat Al Franken is certified as the winner of Minnesota's Senate seat. In his e-mail, Menendez said Specter's actions will will make Republican Norm Coleman "dig in his heels and fight even harder" to prevent Franken from taking office.
Menendez also issued a warning to Democratic supporters that Republicans will "come after" Specter and other members of the party up for re-election in 2010.
"Even when Coleman finally, finally has no more appeals and is forced to concede defeat, the Republicans will be plotting day and night to defeat our candidates in 2010," said Menendez. "They know that beating just one Democratic incumbent would let them filibuster, delay, and deny the President's agenda."