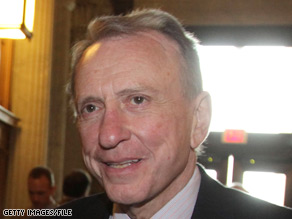 Specter announced Tuesday he was leaving the GOP.
WASHINGTON (CNN) - Veteran Pennsylvania Sen. Arlen Specter intends to switch from the Republican to the Democratic party Tuesday, multiple sources tell CNN.
A Specter party switch would give Democrats a filibuster-proof Senate majority of 60 seats if Al Franken holds his current lead in the disputed Minnesota Senate race.
Specter, a five-term Senate veteran, was expected to face a very tough primary challenge next year from former Rep. Pat Toomey, who nearly defeated Specter in the Pennsylvania GOP Senate primary in 2004.
A Quinnipiac University survey of registered Pennsylvania voters released last month showed Specter trailing the more conservative Toomey in a hypothetical primary matchup, 41 to 27 percent.
A separate Franklin & Marshall survey showed Specter leading Toomey 33 to 18 percent. Another 42 percent, however, were undecided.
Over half of the Republicans polled in the Franklin & Marshall survey said they would prefer to see someone new in the Senate.
Numerous Republicans are very angry with Specter over his recent vote in support of President Barack Obama's $787 billion stimulus plan.
Specter, one of only three GOP senators to vote for the measure, has been part of a dwindling group of GOP moderates from the northeastern part of the country.