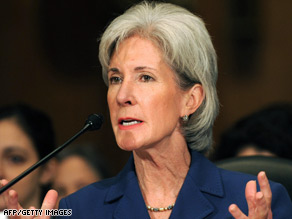 Kathleen Sebelius is expected to be confirmed as the health and human services secretary.
(CNN) - The Obama administration is up against its first public health outbreak without a secretary of health and human services, but that could change with a Senate vote expected as early as Tuesday on the confirmation of Kathleen Sebelius.
If confirmed, Sebelius would take office as swine flu numbers climb worldwide. As of Tuesday morning, at least 90 cases have been confirmed, including 50 in the United States.
The White House, which declared a public health emergency Sunday, has insisted that it is equipped to handle the situation.
"I think this notion somehow that if there's not currently a secretary, that there's not the function that needs to take place in order to prepare for either this or any other situation is just simply not the case," White House press secretary Robert Gibbs said.