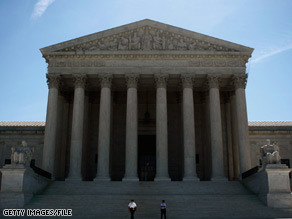 The Obama administration faced tough questions Wednesday from conservative justices at the Supreme Court.
WASHINGTON (CNN) - The Obama administration faced tough questions Wednesday from conservative justices at the Supreme Court asking whether a
powerful enforcement tool in the landmark Voting Rights Act is still needed to fight discrimination.
In one of the biggest case this term, a majority of the bench appeared poised to strike down - at least in part - the "preclearance" provision of the 1965 law that provides continuing federal control over election practices in 16 states identified as needing oversight, based on past discrimination against minority voters.
Other states are not covered by the provision even if they, too, discriminate against minority voters. Other enforcement tools, however, may be available.
At issue is whether Congress in 2006 properly extended the law - whose Section 5 mandates that the covered states get advance approval of changes in how their elections are conducted - or whether the country has made enough progress on racial equality to make continued federal oversight essentially unnecessary. A ruling is expected in two months.
The arguments divided along familiar ideological lines. "In the real world," predicted Justice David Souter, "if Section 5 safeguard is taken away, the push-back is going to start. It has never
stopped." "Congress can impose this disparate treatment" against some states but not others, said Chief Justice John Roberts. "At some point it begins to look like this is going to go on forever."
Several dozen members of the NAACP rallied outside the court, and members of Congress attended the 70-minute oral arguments, including the Senate Judiciary Committee chairman, Sen. Patrick Leahy, and longtime civil rights activist Rep. John Lewis.
The case involves a small homeowners association board outside Austin, Texas. Residents of the Canyon Creek planned community in 2003 sought to move its polling place to an elementary school that is the neighborhood's polling place for all other elections. Such a move required federal approval under Section 5.
Backed by a group of conservative activists, Canyon Creek launched a direct challenge to the law's "preclearance" provision, arguing it should not be enforced in areas where it can be argued racial discrimination no longer exists.
Civil rights groups say Section 5 has proven an important tool to protect minority voters from local governments that could set unfair or unconstitutional barriers to the polls. If it is ruled unconstitutional, they warned the justices, the very power and effect of the entire Voting Rights Act would crumble.
The Bush administration had led the legal fight defending the law, but the case was argued Wednesday by a Justice Department attorney named by President Barack Obama.
None of the justices openly suggested that preclearance should be tossed out entirely, but many expressed concern that it is unfair that some states are still covered under Section 5, but others are not.
"Democracy was in a shambles," when the Voting Rights act was passed 44 years ago, said Justice Anthony Kennedy. "That's not true anymore, and to say states are willing to yield their sovereign responsibilities to govern themselves doesn't work."
The 72-year-old justice could once again prove the swing vote in the divided case, and he hammered his point repeatedly on the federalism question.
"Congress has made a finding that the sovereignty of Georgia is less than the sovereign dignity of Ohio," he said." This is a great disparity in treatment, and the government of the United States is saying our states must be treated differently."
After the session, several civil rights activists expressed concern over Kennedy's remarks.
Roberts and Justice Antonin Scalia both pointed out that only 15 jurisdictions in Virginia among all the covered states have so far managed to get themselves exempted from Section 5. "It's obvious quite impractical for anybody to bail out," said Scalia, and Roberts noted Section 5 was designed all along as a temporary measure.
On the other side, Justice Ruth Bader Ginsburg was the most vigorous defender of preserving congressional authority over voting rights.
"Congress fastened on that issue and it was referred to as second generation discrimination," she said. "You start with blatant overt discrimination, and then in time people recognize that won't go anymore, so the discrimination becomes more subtle, less easy to smoke out. But it doesn't go
from blatant over discrimination to everything is equal."
Souter also acknowledged progress over the years, but told Canyon Creek's lawyer the overwhelming record shows ongoing discrimination. "I don't understand with a record like that how you can maintain that things have radically changed," he said.
Debo Adegbile, arguing for the NAACP Legal Defense Fund, told the justices a pattern of intentional discrimination still requires tough tools to fight it.
"If you take away the prophylactic, the discrimination will return in a way we don't need to revisit," he said. "The history has been that voting discrimination manifests itself through repetitive efforts."
While legal briefs on both sides mentioned the impact of the nation electing its first African-American president as justification both for and against Section's 5 validity, no mention of that point was made in court arguments.
The justices have the option of upholding Section 5, throwing it out in its entirety, or seeking a more narrow result that would make the Texas district eligible for bailout, without resolving the larger constitutional questions of when race-based solutions can be used to remedy past and present discrimination. Such a narrow ruling would uphold the law, for now.
The case is Northwest Austin Municipal Utility District Number One v. Holder (08-322).