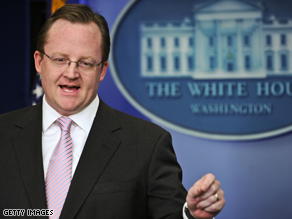 Gibbs made it clear he viewed the 100 day marker as an artificial one.
(CNN) – How long did it take President Obama to decide to endorse Sen. Arlen Specter's candidacy in the Pennsylvania Democratic primary?
"My sense is it probably took him less than about seven seconds," White House Press Secretary Robert Gibbs said Wednesday during a press gaggle aboard Air Force One. "The President offered his support to Senator Specter and it's a commitment he'll keep. [Specter's] made a decision of how to best represent the people he represents in Pennsylvania and we're happy that he did so."
Gibbs also made it clear he viewed the 100 day marker as an artificial one.
"We're playing along with the game," Gibbs told the press about the administration's acknowledgement of the 100th day. "You guys create the wave and we'll try to surf it a little bit."
"I don't think he waits for some specific milestone in days to reflect on what he's faced or the decisions that he's made or what lies ahead. I think he does that on a fairly regular basis," the press secretary told reporters. "I think he's happy with what we have started to achieve, understanding that we have a long way to go, that the American people are more concerned with what we're doing each and every day, not simply what we're doing on the 100th day or the 101st."
President Obama participated in a town hall meeting Wednesday in Missouri and is set to hold a press conference later tonight.