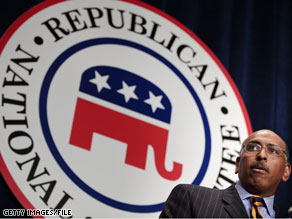 RNC chairman Michael Steele compared Specter's defection to the legendary betrayal of Benedict Arnold.
WASHINGTON (CNN) - Over the past 24 hours, angry Republicans have thrown out a flurry of withering descriptions of the decision by Pennsylvania Sen. Arlen Specter to renounce his GOP membership Tuesday to become a Democrat. Now Republican National Committee Chairman Michael Steele is comparing the senator's action to one of the most storied betrayals in U.S. history.
"I hope Arlen Specter's party change outrages you. ...He told us all to go jump in the lake today," Steele wrote in a fundraising e-mail sent to Republicans Tuesday.
Facing the prospect of a primary loss because of "his left-wing voting record," said Steele, Specter had "peddled his services–and his vote–to the leftist Obama Democrats who aim to remake America with their leftist plan."
"You and I have a choice. Some will use Specter's defection as an excuse to fold the tent and give up. I believe that you are not one of those people. When Benedict Arnold defected to the British, George Washington didn't fold the tent and give up either.
"He grit his teeth more determined than ever to succeed. That's what I'm asking you to do today."
Steele has had a rocky start since taking the helm at the RNC, including the loss earlier this week of a hotly-contested House race in upstate New York.