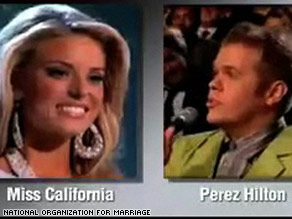 Carrie Prejean and Perez Hilton are prominently featured in a new ad from the National Organization for Marriage.
WASHINGTON (CNN) – The recent dust-up between a celebrity blogger and a California beauty queen is at the center of a new ad from a group that opposes same-sex marriage.
The new ad, titled "No Offense," spotlights the controversy that erupted during the Miss USA pageant earlier this month when Miss California Carrie Prejean said she did not believe in same-sex marriage in response to a question from blogger Perez Hilton, who is gay.
"Gay marriage activists attack people for supporting marriage because they don't want to debate the consequences of same-sex marriage," the ad says. "They want to silence opposition."
The spot is the second ad in a $1.5 million campaign recently launched by the National Organization for Marriage.
"Our mission is to protect marriage and the faith communities that sustain it," the group's executive director Brian Brown said Tuesday. "We want to highlight the very real effects on our liberties and especially on religious organizations, businesses, and individuals."
Brown also said Tuesday that the group is concerned that people of faith who oppose same-sex marriage are being cast as bigots in much the same that people who opposed racial integration were during the civil rights movements of the 1950's and 1960's.
During the pageant, Hilton asked Prejean about same-sex marriage. "I believe that a marriage should be between a man and a woman," Prejean said in response to the blogger, who was one of the pageant's judges. "No offense to anybody out there," Prejean added, "but that's how I was raised and that's how I think that it should be."
Prejean took second place in the pageant and some observers believe her answer cost her the crown.

She is set to join Brown at a press conference Thursday afternoon in Washington for the formal release of the new ad.
In an anticipation of the press conference, the producers and co-executive directors of the Miss California USA pageant issued a statement critical of Prejean's involvement with the National Organization for Marriage. "In the entire history of Miss USA, no reigning title holder has so readily committed her face and voice to a more devisive [sic] or polarizing issue," the statement says. "We are deeply saddened Carrie Prejean has forgotten her platform of the Special Olympics, her committment [sic] to all Californians, and solidified her legacy as one that goes beyond the rights to voice her beliefs and instead reveals her opportunistic Agenda."