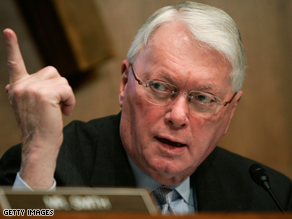 Bunning blamed McConnell for the GOP's loss of Senate seats.
WASHINGTON (CNN) – Sen. Jim Bunning is again attacking his fellow Kentucky Republican, Senate Minority Leader Mitch McConnell, calling him "selfish" and blaming for his party's loss of seats in the Senate.
"So if leadership means anything, it means you don't lose approximately 19 seats in three election cycles with good leadership," Bunning said on a conference call with local reporters on Tuesday, according to the Louisville Courier-Journal.
Bunning has lashed out at McConnell and other Senate Republicans before. Earlier this year, he blamed McConnell for his poor fundraising performance and threatened to sue the National Republican Senatorial Committee if it backed an alternative GOP candidate.
Bunning, who is considered one of the most vulnerable Republicans going into the 2010 election cycle, has raised $262,980 so far, according to his most recent FEC filing. He may face a serious primary challenge, and a number of Democrats have already thrown their hats in the ring, including his state's Attorney General Jack Conway and Lt. Gov. Dan Mongiardo.
On Tuesday, Bunning also criticized Sen. Arlen Specter's decision last week to defect to the Democratic Party, calling his former colleague "as selfish as our leader."
"Do you know Arlen Specter will be 80, has had four bouts with cancer and he still wants to run for the U.S. Senate?" Bunning told reporters on the call. "And I'm being criticized at 77 and healthy for wanting to run for the U.S. Senate by certain leadership people in my party. Give me a break."