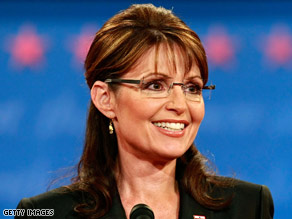 Join the conversation on Jack's blog.
As the Republican Party continues to struggle, some of them are starting to sound silly. Rush Limbaugh is now suggesting that Sarah Palin is the most prominent and articulate voice for good old-fashioned American conservatism.
Recalling the disastrous interviews Ms. Palin did with Katie Couric on the CBS Evening News during the campaign, 'prominent' and 'articulate' are not the words that immediately pop into my mind.
But the leader of the Republican Party, Rush Limbaugh, thinks differently…
Limbaugh also insists that some Republican leaders hate, despise and fear Sara Palin as well as find her embarrassing. The embarrassing part I definitely understand.
He's referring to that new group formed by old Republicans called the National Council for a New America. It's made up of folks like Jeb Bush, Mitt Romney, Bobby Jindal and John McCain who are working to re-brand the GOP.
To read more and contribute to the Cafferty File discussion click here