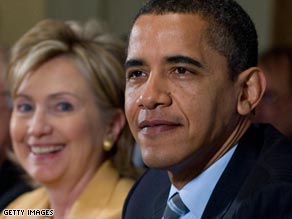 Barack Obama has turned Hillary Clinton from a political rival into a loyal ally.
(CNN) - Think of all the problems that U.S. President Barack Obama is facing - the economy, two wars, Somali pirates and the Swine flu - and you can easily forget the one that went away.
It's Hillary Clinton, who literally went away, traveling as America's top diplomat to Switzerland and South Korea, Ireland and Indonesia, and several ports of call in between. She still works in Washington, but in a way few of us would have expected.
Think back: Obama and Clinton spent a long time plotting against each other, competing in a drawn-out contest for their party's presidential nomination. It was a battle bitter enough to threaten to split the Democrats and cost them the election.