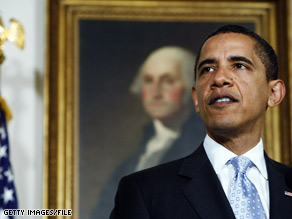 President Obama will announce educational help for the unemployed on Friday.
WASHINGTON (CNN) - New unemployment numbers are due out Friday and president Barack Obama will use the opportunity to announce new steps to help unemployed Americans.
The target of the rules will be people out of work who want to go back to school. Rules now create a catch 22: In most cases, if you are receiving unemployment compensation you have to be actively looking for a job. If you want to get more education or training, you have to give up unemployment benefits. But if you return to school you don't qualify for federal education grants since, in most cases, your qualification is based on your previous year's income.
The president is scheduled to outline a plan under which the Department of Education will send colleges legal guidance encouraging them to increase financial aid packages for the unemployed so they can enroll in educational and training programs, while keeping their unemployment benefits.
The colleges would consider the person's current financial situation to make it possible for them to receive Pell grants, which are available for low-income students. The unemployed person would not lose their unemployment benefits and the maximum Pell grant would be increased in July by $500 to $5,350.
The Labor Department will issue guidance "strongly encouraging" states to modernize their rules to allow more unemployed to continue their education without forfeiting their benefits.
President Obama, in prepared remarks, will say, "Our unemployment insurance system should no longer be a safety net, but a stepping stone to a new future. It should offer folks educational opportunities they wouldn't otherwise have, and give them the measurable and differentiated skills they need to not just get through these hard times, but to get ahead when the economy comes back."
The government is started a new Web site with information on the plan: http://www.opportunity.gov.