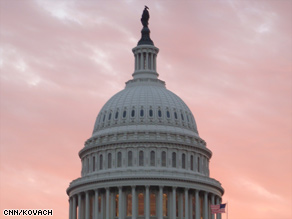 The CNN Washington Bureau's morning speed read of the top stories making news from around the country and the world.
WASHINGTON/POLITICAL
For the latest political news: www.CNNPolitics.com.
CNN: Republicans rip Obama for insufficient budget cuts
Republican congressional leaders tore into President Obama's proposed 2010 budget Thursday, arguing that his spending cuts will do little to stem a rising tide of red ink.
CNN: Military procurement reform sweeps through Senate
The Senate unanimously approved a bill Thursday to change the costly process of procuring weapons and equipment for the military, a budget reform pushed by President Obama.
CNN: CNN Political Ticker wins best political news blog
The CNN Political Ticker Thursday was named the best political news blog by Editor & Publisher and Media Week Magazines.
CNN Commentary: 5 reasons GOP will rebound
"It is important for us to have a strong Republican Party," Democratic Speaker of the House Nancy Pelosi tauntingly told a press conference on April 23. "And I hope that the next generation will take back the Republican Party for the Grand Old Party that it used to be."
CNN: Cheney: Mistake for GOP to 'moderate'
Former Vice President Dick Cheney is weighing into the heated internal debate over the future of the Republican Party, declaring it would be a mistake for the GOP to "moderate."
CNN: Palin pulls out of White House Correspondents' Dinner
Alaska Gov. Sarah Palin will miss a chance to chat up President Obama this weekend because she's cancelling plans to attend the White House Correspondents' dinner, but she's got a good excuse.
NYT: Elite Unit's Problems Pose Test for Attorney General
A week after shutting down the criminal case against former Senator Ted Stevens of Alaska because it had been botched by prosecutors, Attorney General Eric H. Holder Jr. delivered a pep talk to Justice Department lawyers.
Washington Post: Democrats Assail Obama's Hit List
President Obama's modest proposal to slice $17 billion from 121 government programs quickly ran into a buzz saw of opposition on Capitol Hill yesterday, as an array of Democratic lawmakers vowed to fight White House efforts to deprive their favorite initiatives of federal funds.
LA Times: Records suggest Pelosi, others were told of harsh interrogations
Congressional leaders were briefed repeatedly on the CIA's use of severe interrogation methods on Al Qaeda suspects, according to new information released by the Obama administration Thursday that appears to contradict the assertions of House Majority Leader Nancy Pelosi.
WSJ: U.S. to Appoint Top General to Kabul in Afghan Revamp
Defense Secretary Robert M. Gates is expected to bolster the U.S. military leadership in Afghanistan by appointing a three-star general to Kabul, according to senior defense officials. The move underscores growing concern in the military over the course of the conflict and marks the first time since the seven-year war began that the U.S. will have two senior commanders there.