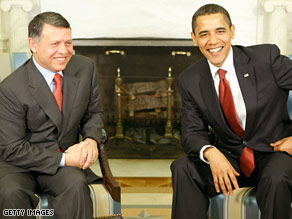 Join the conversation on Jack's blog.
President Obama may not have much time to help broker a peace deal in the Middle East. King Abdullah of Jordan tells the London Times that Mr. Obama's meeting next week with Israeli Prime Minister Benjamin Netanyahu has become the acid test for the administration's commitment to peace.
King Abdullah says all eyes will be on Washington; and if there are no signs of progress, the Arab world will feel like yet another American government has let them down. He suggests that overnight, President Obama could lose the "tremendous credibility" he's built up in the Arab world.
And that would be a shame because Mr. Obama has a pretty impressive level of support over there. A new Ipsos survey polled 7,000 adults in Saudi Arabia, the United Arab Emirates, Kuwait, Lebanon, Egypt and Jordan.
The poll shows President Obama gets a 48 percent favorable rating, running as high as 58 percent in Jordan. Only one in 10 residents across the region think the U.S. president will have a negative effect on their country.
To read more and contribute to the Cafferty File discussion click here