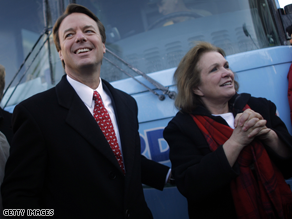 Elizabeth Edwards has taken heat for not urging her husband to drop his presidential bid.
(CNN) - Elizabeth Edwards is responding to a wave of criticism in recent days over the fact she did not forcefully urge her husband to exit the presidential race upon learning of his affair with a campaign staffer, saying Monday she was not aware of the extent of the indiscretion.
"When I found out and for a large part of writing the book, I only knew about a single night," she said in an appearance on NBC's Today Show. "A single moment of weakness. Though it was difficult to accept, most of us who seek to lead and most everybody who seeks to be led have moments of weakness in their lives and I did not think that was a fatal flaw and I was wrong."
The comments come days after Mrs. Edwards revealed in a new book out last week she first learned her husband, former presidential candidate John Edwards, had an affair with a former campaign staffer in 2006. The former presidential candidate told his wife about the affair only days after he formally launched his presidential bid in late December of 2006.
Despite his infedelity, the Edwardses decided to press on with the presidential campaign and Mrs. Edwards often served as a vigorous advocate for her husband's character in the months that followed - a fact many in the media have since criticized.
"She ended up going along, helping sell the voters on her husband's character as a truth teller and charm as a loving husband and father," New York Times columnist Maureen Dowd recently wrote. "She had put so many quarters in the shiny slot machine of their mutual ambition."
But in the interview Monday, Mrs. Edwards suggested she would likely not have supported her husband's second attempt at the White House had she known more details of the affair that have since come to light.
"I probably would have been more adamant about him not running than I was," she said. "The whole time he was running I only knew about this one thing."
Programming Note: Watch Elizabeth Edwards' exclusive interview on CNN's Larry King Live at 9 p.m. Eastern time Tuesday night.