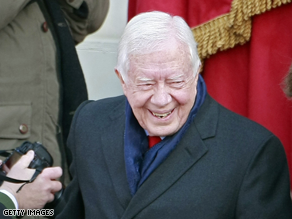 Carter will testify on Capitol Hill Tuesday.
WASHINGTON (CNN) - You don't see this every day. A former President of the United States will testify on Capitol Hill.
The man in the spotlight this afternoon will be former President Jimmy Carter, who is scheduled to appear before a congressional panel looking into energy security.
Carter, in office from 1977 to 1981, is no stranger when it comes to energy concerns. The long lines for gasoline during an Arab oil embargo are lasting memories of his presidency for many people.
But Carter created the Department of Energy, and, in one of his most famous speeches, he talked about the need for energy efficiency and a reduction in oil imports.
Carter pursued policies involving conservation, price controls, and the use of technology, and now, the Senate Foreign Relations committee is asking for his advice on the country's current problems. Committee Chairman
John Kerry is asking Carter to offer a "historical review" of U.S. energy security policy at a hearing looking at the security implications of U.S. dependence on foreign oil.