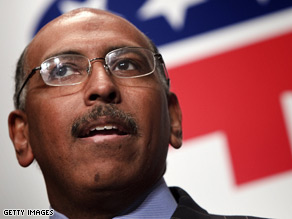 RNC Chairman Michael Steele has been unexpectedly 'freewheeling,' one CNN analyst says.
(CNN) - President Obama poked fun at the travails of the Republican Party last weekend, telling the party's chairman that no, the GOP does not qualify for a bailout, and conservative radio host Rush Limbaugh does not count as a troubled asset.
Though the president was just looking for a laugh at the annual White House Correspondents dinner, Republicans have a tough road ahead as they try to rehabilitate their party.
"When a party goes out of power so spectacularly as the Republicans have over the last couple of elections, it's going to take a while for a leader to emerge," said Candy Crowley, CNN's senior political correspondent. "And we should say that when a party is out of power, usually the leader emerges when they nominate their next presidential nominee."
In recent weeks, the GOP has received more attention for a steady spout of infighting than it has for its message.