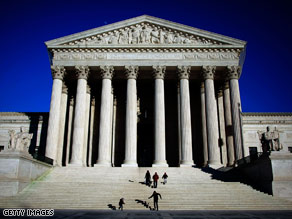 Senate leaders met with President Obama to discuss potential nominees for the high court.
WASHINGTON (CNN) - Senate leaders who met with President Obama today say he told them he'll name his Supreme Court nominee soon.
Senate Majority Leader Harry Reid and Senate Judiciary Committee Chairman Patrick Leahy made the comments after meeting with the president at the White House. Senate Minority Leader Mitch McConnell and Jeff Sessions, the ranking Republican on the Judiciary Committee, also joined Reid.
Obama has said he wants his nominee to replace retiring Justice David Souter to be confirmed by the Senate before the start of the next session of the Supreme Court at the beginning of October.
McConnell, the top Republican in the Senate, is optimistic that can happen.
"Unless the president sends up a very controversial nominee, the vote should occur well in advance of the first Monday in October, which is when the court reconvenes," said McConnell.
The White House has ruled out any announcement on a high court nominee this week.
Both McConnell and Sessions said they hope the president will not name a "judicial activist" as his nominee.
"I didn't recommend anyone, but I do believe that someone who is not a judicial activist would be best for the country. Someone who does take the law as written seriously. Someone who does not confuse the role with that of a legislator and hopefully the president will name someone along those lines," said McConnell.
"We are hopeful that a nominee will come forth that is a unifying nominee that we can all support," added Sessions.
McConnell would not say whether or not Senate Republicans would filibuster if they believe the president has nominated a judicial activist to the high court. "We'll take a look at the nominee, and respond appropriately," he told reporters Wednesday.
A filibuster is a tactic by the minority party that can stall or kill a bill or a nomination without a full vote.