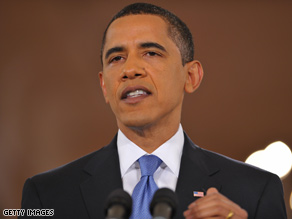 President Obama's nominee for deputy Interior Secretary is his first not to be confirmed by the Senate.
(CNN) - Senate Republicans Wednesday blocked President Obama's choice to be the No. 2 official at the Department of the Interior.
On a vote of 57 to 39, they sustained a filibuster against David Hayes to be deputy Interior Secretary. It marked the first time the Senate has voted against one of Obama's nominees.
Sen. Robert Bennett, R-Utah, led the fight against Hayes. Bennett says his opposition is not about Hayes' qualifications. Rather, Bennett says the administration has not adequately answered his questions about why oil and gas leases in his state – that were approved in the last days of the Bush administration – were canceled by the Obama administration. He called the actions "political."
Senate Majority Leader Harry Reid, D-Nevada., said the disputed leases are near national parks and the Interior Department did not cancel the leases but pulled them for review.
Reid vowed to bring the nomination back for another vote, saying he would wait to see if Democrat Al Franken wins the disputed Minnesota Senate seat, which would give Democrats the 60 votes they need to end the filibuster and approve Hayes.
Update: Democratic leaders say they could vote again on the nomination as early as next week when three more Democrats would be available.