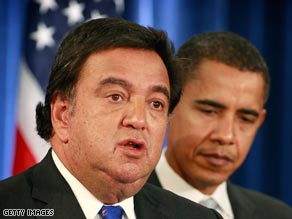 Obama will appear with Richardson Thursday.
(CNN) - President Obama is set to meet up with Gov. Bill Richardson at a New Mexico town-hall Thursday, the first time the two will have appeared together since Richardson abruptly withdrew his nomination to commerce secretary in early January.
Richardson - who sought the Democratic presidential nomination himself last year - withdrew his nomination to Obama's Cabinet in early January, citing the distraction of a federal investigation into ties to a company that has done business with his state.
Two Democratic strategists outside Obama's transition team told CNN that Obama aides pushed the withdrawal because they did not want an ethical distraction amid the controversy then surrounding ex-Illinois Gov. Rod Blagojevich.
Richardson maintains he has not violated any laws.