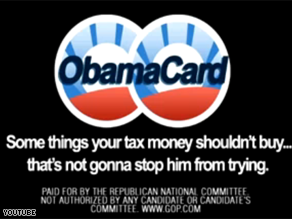 The RNC is out with a new Web video.
(CNN) - The Republican National Committee is launching a new Web video Thursday that parodies the popular "Priceless" MasterCard commercials to coincide with President Obama's upcoming town-hall meeting on credit card debt.
The spot highlights Obama's recent purchase of a Portuguese Water Dog, his courtside seat at a Wizards game earlier this year, the economic stimulus package, and the controversial Air Force One flyover above New York City.
Obama is set to hold a town-hall meeting focusing on credit card debt in Albuquerque, New Mexico later Thursday.
Full Script:
Voice: A new best friend: $2,000

Voice: A court side seat: $500

Voice: Payback to your political cronies: $787,000,000,000

Voice: A cool new photo for your website: $328,000

Voice: Drowning your country in debt: Priceless

Voice: There are some things your money shouldn't buy but that's not gonna stop him from trying
UPDATE: DNC spokesman Hari Sevugan has issued a response to the ad:
"I understand that the RNC is frustrated with the constant infighting and lack of coherent message and all, but going negative on Bo isn't going to help and neither is blatant hypocrisy. What's 'priceless' is a party that doubled our national debt, championed policies that lead to the greatest economic crisis in generations and now can't muster up a single new idea to set right what they got wrong, attacking anyone for investing in the American people to get the economy back on track."