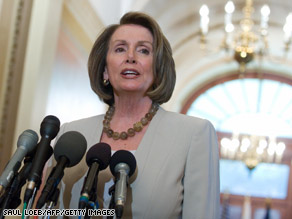 Join the conversation on Jack's blog.
Nancy Pelosi seems to have a new story every day when it comes to the debate over torture. In fact, more focus is now on Pelosi than on the Bush administration, which authorized the use of waterboarding in the first place.
The Speaker of the House is now claiming that the CIA mislead her during a September 2002 briefing by telling her waterboarding hadn't been used yet on detainees. She says the CIA briefers gave her inaccurate and incomplete information when asked if they lied to her — Pelosi nodded her head 'yes'.
That's a pretty serious accusation. The CIA says: "It is not the policy of this agency to mislead the United States Congress." A former senior intelligence official says it's inconceivable that the CIA would not have talked about interrogation methods already being used.
To read more and contribute to the Cafferty File discussion click here