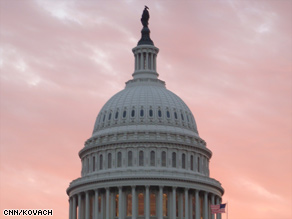 The CNN Washington Bureau's morning speed read of the top stories making news from around the country and the world.
WASHINGTON/POLITICAL
For the latest political news: www.CNNPolitics.com.
CNN: Obama to resurrect military tribunals for terror suspects
In a move that could reignite tensions with liberals in his own party, President Obama is planning on Friday to resume the Bush administration's highly controversial military tribunal system - which Obama suspended his first week in office - for some Guantanamo detainees, according to three administration officials.
CNN: Powell aide says torture helped build Iraq war case
Finding a "smoking gun" linking Iraq and al Qaeda became the main purpose of the abusive interrogation program the Bush administration authorized in 2002, a former State Department official told CNN on Thursday
CNN: Specter primary challenger drops out
U.S. Sen. Arlen Specter received welcome news Thursday evening when the Pennsylvanian's only current primary challenger abandoned a run for the Democratic Senate nomination, two Democratic sources told CNN.
CNN: Prosecutor to question Karl Rove on Friday
Former Bush administration official Karl Rove is scheduled to be interviewed Friday about why a number of U.S. attorneys were fired in 2006, according to an attorney in private practice familiar with the case.
CNN: Hoyer looks to change torture talk back to 'what was done'
The No. 2 Democrat in the House on Thursday dismissed talk of what House Speaker Nancy Pelosi knew or didn't know about the CIA's interrogation techniques.
CNN: CIA denies Cheney request on interrogations
The CIA has rejected former Vice President Dick Cheney's request to declassify records of abusive interrogations of suspected terrorists, a spokesman for the spy agency said Thursday.
CNN: Limbaugh hits back at McCain's mom
Rush Limbaugh responded to Roberta McCain's criticism of his tough radio persona Thursday, joking over the fact "McCain's mother is dumping on me."
NYT: New York City Official Is Obama Pick for C.D.C.
President Obama will announce on Friday that he has chosen Dr. Thomas R. Frieden, the New York City health commissioner, as the next director of the Centers for Disease Control and Prevention, administration officials said Thursday.