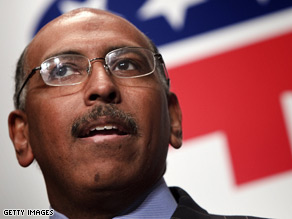 RNC Chairman Michael Steele joked Friday that President Obama is 'looking to put Doctor Phil on the court.
WASHINGTON (CNN) – Picking on President Obama's statement that he's searching for a Supreme Court justice with "empathy" for ordinary Americans' problems. Republican National Committee chairman Michael Steele joked Friday that the president is "looking to put Doctor Phil on the Court."
Addressing the National Rifle Association, Steele warned that "liberal Democrats could control every lever of every branch of government" if Obama picks a "young, activist, left-wing justice."
"Supreme Court justices hold lifetime appointments," Steele said according to his prepared remarks. "That is why it is imperative that President Obama take his time and search for a nominee with the wisdom and grounding to interpret the laws of our great nation – not one who will have a knee jerk desire to 'empathize' with the concerns of Americans. Sounds like instead of another Judge Roberts, the President is looking to put Doctor Phil on the Court."
Steele also criticized Homeland Security Secretary Janet Napolitano for a recent report warning of "right-wing extremism," calling it "silly" and "sad." He said it is "ironic" that some Democrats are trying to restrict gun ownership while considering bringing detainees from Guantanamo Bay to prisons in the United States.
"It is ironic, to say the least, that at the same time Democrats in Congress are threatening to deny Americans their second amendment right to own a firearm and defend their families and homes, they are considering bringing terrorists like 9-11 mastermind Khalid Sheik Mohammed and other Al Qaeda detainees to our communities once the President follows through on his campaign promise to close Guantanamo Bay," Steele said.