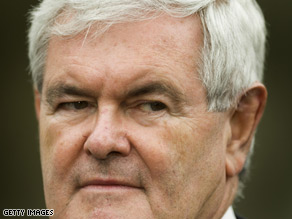 Former House Speaker Newt Gingrich has joined the National Council for a New America.
WASHINGTON (CNN) - Former House Speaker Newt Gingrich has signed on to the latest high-profile effort to re-brand the Republican Party - but don't expect to see him take a major leadership role for the National Council for a New America, or make a starring appearance at any of the events on the group's national tour.
Organizers of the effort, spearheaded by House Minority Whip Eric Cantor, originally told reporters that Gingrich had not been included in the newly-launched group because his 527, American Solutions, was a partisan entity. (The organization describes itself as a "tri-partisan" network.)
Gingrich supporters dismissed that explanation, pointing out that Mitt Romney - a member of the NCNA's panel of experts - headed the explicitly partisan Free and Strong America PAC, which donates to GOP candidates.
(updated after the jump with Cantor camp response)


Gingrich spokesman Rick Tyler downplayed the delay, saying the former speaker was "thrilled and delighted" to join the group.
An individual close to the process blamed Romney's operation for the decision. The GOP aide, who did not wish to be named, told CNN Cantor had officially extended an invitation to Gingrich soon after the group's debut event in northern Virginia last month, but that the former Speaker had not decided to formally accept until Monday.
Earlier this month - the same day Rush Limbaugh told listeners that NCNA leaders despised Alaska Gov. Sarah Palin - Cantor announced that the former Republican vice presidential candidate had accepted an earlier invitation to join the group. Palin joined Louisiana Gov. Bobby Jindal, Mississippi Gov. Haley Barbour, her former GOP ticket-mate Sen. John McCain, former Floria Gov. Jeb Bush and Romney as a member of the group's senior advisory panel.
Gingrich's involvement is expected to be more behind-the-scenes.
Romney spokesman Eric Fehrnstrom derided the report that the former Massachusetts governor's camp had sought to exclude Gingrich. "To qualify as interesting, a rumor should have at least some basis in fact," he said. "This has none. Our view is, the more the merrier."
UPDATE: Cantor spokesman Brad Dayspring dismissed the complaints, telling CNN that Gingrich - and RNC chairman Michael Steele, who was not also included in the group's launch due to similar concerns - had not been singled out. "Our legal counsel took extra efforts to ensure that every 'T' was crossed and every 'I' was dotted, to ensure that there were no questions surrounding the involvement of any member of the National Council or its panel of experts," he said.
He also denied that the Romney team had anything to do with the former speaker's initial exclusion: "There is absolutely no truth to the insinuation that Gov. Romney had anything to do with a delay [in Gingrich's invitation], and Gov. Romney has been very supportive of the growth of the National Council."