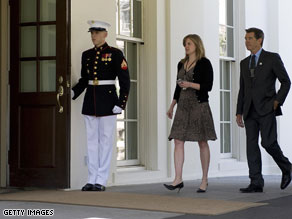 Pierce Brosnan arrives at the White House.
WHITE HOUSE (CNN) - A few of the world's streets are unquestionably sterling venues for celebrity watching: Rodeo Drive. Broadway.
And - at least since January - Pennsylvania Avenue.
On Tuesday, Pierce Brosnan, was the latest star seen walking through the West Wing doors. An inquiry to the White House Press office as to why the actor was visiting was not immediately answered. The former James Bond star's visit to the White House follows stops by several other famous guests, including Brad Pitt, George Clooney, singer Usher, and Tiger Woods.