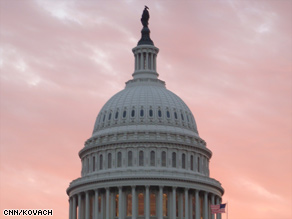 The CNN Washington Bureau's morning speed read of the top stories making news from around the country and the world.
WASHINGTON/POLITICAL
For the latest political news: www.CNNPolitics.com.
CNN: Obama, Netanyahu discuss U.S.-Israeli disagreements
President Obama and Israeli Prime Minister Benjamin Netanyahu on Monday held their first face-to-face meeting since each took power, confronting a range of potentially divisive issues.
CNN: Steele: GOP must focus on conservative principles
Republican National Committee Chairman Michael Steele will tell GOP state leaders Tuesday that they must embrace conservative principles, focus their efforts on rebuilding the party and highlight the policy differences between Republican ideals and President Obama's agenda.
CNN: Clinton to be named U.N. envoy to Haiti
Former U.S. President Clinton has been tapped as a United Nations special envoy to Haiti, a senior U.N. official said Monday.
CNN: House Dems standing by Pelosi
As congressional Republicans continued Monday to stoke the flames over Speaker Nancy Pelosi's accusation the CIA lied to her about waterboarding, House Democrats appeared to be standing behind their leader.
CNN: Top Republicans want apology or proof from Pelosi
Top Republicans are demanding an apology from House Speaker Nancy Pelosi or proof to back her claim that the CIA misled Congress about the use of harsh interrogation tactics.
CNN: Byrd hospitalized for infection
West Virginia Sen. Robert Byrd was hospitalized late last week for a temperature spike caused by an infection, according to a statement released by Byrd's office Monday.
WSJ: Obama Avoids Test on Gays in Military
The Obama administration has decided to accept an appeals-court ruling that could undermine the military's ban on service members found to be gay.
NYT: Advocacy Groups Seek Disbarment of Ex-Bush Administration Lawyers
A coalition of left-wing advocacy groups filed legal ethics complaints on Monday against 12 former Bush administration lawyers, including three United States attorneys general, whom the groups accuse of helping to justify torture.
Washington Post: Amid Queries, CIA Worries About Future
Battered by recriminations over waterboarding and other harsh techniques sanctioned by the Bush administration, the CIA is girding itself for more public scrutiny and is questioning whether agency personnel can conduct interrogations effectively under rules set out for the U.S. military, according to senior intelligence officials.
Washington Post: U.S. to Expand Immigration Checks to All Local Jails
The Obama administration is expanding a program initiated by President George W. Bush aimed at checking the immigration status of virtually every person booked into local jails. In four years, the measure could result in a tenfold increase in illegal immigrants who have been convicted of crimes and identified for deportation, current and former U.S. officials said.
Politico: Palin camp eyed Clinton alliance
In an unusual attempt to forge an alliance between two of the most prominent families in American politics, John Coale, a Washington-area Democratic donor and onetime adviser to Sarah Palin, urged the conservative Alaska governor to use her political action committee to help retire the presidential campaign debt of Hillary Clinton .
Bloomberg: Rising Incomes May Help Democrats Avert 2010 Election Debacle
Coping with the worst economy in a half century and unemployment likely to peak at a 26-year high around the middle of next year, Democrats by rights should be facing the prospect of a disaster in the November 2010 congressional elections. They aren't.
LA Times: Campaigning for budget measures ends in a whimper
The battle over six state budget propositions on today's ballot sputtered to a close Monday with a burst of low-profile campaigning that belied the gravity of California's fiscal crisis.
Financial Times: Lazard man gets shake-up post at Treasury
Jim Millstein, a banker with investment group Lazard, joined the US Treasury on Monday in a newly created position of senior restructuring officer. Mr Millstein said, in a memo sent to friends, that his role would be to assist Tim Geithner, US Treasury secretary, in "working out" some of the government's existing investments in banks and other financial institutions while structuring new investments to stabilise the financial system.
BBC: Rumsfeld 'Bible texts' criticised
Former US Defence Secretary Donald Rumsfeld has been accused of using quotes from the Bible in his briefings to George W Bush during the Iraq War.
NYT: Senator Seeks Data on Doctor Accused by Army of Falsifying a Product Study
A top Republican lawmaker has opened an inquiry into a former Walter Reed Army Medical Center doctor whom the Army has accused of falsifying a medical study involving a product made by Medtronic, a company for whom he works as a paid consultant.
WSJ: Laws Take On Financial Scams Against Seniors
Fed up with purported financial advisers preying on unwitting older people, investigators from the Arkansas Securities Department last year staged an undercover sweep of one of the hucksters' favorite showcases - free lunch seminars.
Washington Post Op-Ed: Hannah: Stopping an Iranian Bomb
Hanging over yesterday's meeting between President Obama and Israeli Prime Minister Binyamin Netanyahu was one overriding question: Can the president's strategy of diplomatic engagement persuade Iran to cease its efforts to develop nuclear weapons? Unfortunately, history offers little cause for hope - especially if the United States remains focused on trying to reassure Iran of America's benign intentions. Successful denuclearization of hostile states is most likely to occur as a result of regime change, coercive diplomacy or military action, not U.S. pledges of mutual respect.
NYT: Changes Planned for Guantánamo Trials May Lead to Familiar Challenges
When he announced changes to the military commission system for prosecuting detainees at Guantánamo Bay on Friday, President Obama said his reforms "will begin to restore the commissions as a legitimate forum."
Politico Op-Ed: Steele: The Republican Party turns a corner
The Republican Party finds itself the minority party in America for the first time in more than 15 years. I'll be the first to admit it has taken some adjustment. Republicans have engaged in some healthy soul-searching since Election Day, trying to come to grips with our minority status and debating the best way forward as we point out our differences with the Democrats and chart our return to the majority.
Kansas City Star: In history of radical politics, KC researcher connects dots
Leonard Zeskind hunches over, one eye clamped to a loupe, and inspects an old black-and-white photograph taped to his office door.

Anchorage Daily News: Native contracts get a hard look in US Senate
A senator from Missouri is launching a new investigation into the billions of contracting dollars awarded to Alaska Native corporations by the federal government in recent years.
WSJ: U.S., States Join Lawsuits On Wyeth Drug Sales
The Justice Department and 16 states joined two whistleblower lawsuits alleging that Wyeth defrauded the government by offering discounts to hospitals on two of its drugs that it didn't offer to Medicaid.
USA Today Op-Ed: Durbin: Voucher program flops
When the D.C. Opportunity Scholarship Program was created in 2003, it was designed to be a five-year pilot project to give students federally paid vouchers to attend private schools. The point of a pilot program is to establish a model that can be evaluated before it's replicated on a larger scale.
NATIONAL
For the latest national news: http://www.CNN.com.
CNN: GAO report: Special-needs kids abused in schools
Congressional auditors have uncovered widespread abuse of techniques use to restrain or discipline special-education students in U.S. schools, with some deaths linked to the practices, a top congressman says.
CNN: Government runs nation's only legal pot garden
Here, in what could be called the Fort Knox of dope, Mahmoud ElSohly waits patiently as an assistant unlocks the stainless steel door to a climate-controlled vault.
CNN: Airport security bares all, or does it?
Privacy advocates plan to call on the U.S. Department of Homeland Security to suspend use of "whole-body imaging," the airport security technology that critics say performs "a virtual strip search" and produces "naked" pictures of passengers, CNN has learned.
CNN: New services promise online life after death
Your husband, an avid gamer and techie, dies of a heart attack, leaving his vast online life ¬– one you don't know much about ¬– in limbo.
WSJ: With Jobs Scarce, Age Becomes an Issue
Age discrimination in the workplace has long been a concern for the 55-and-older set. In this downturn, however, younger workers may have as much to fear as their more-mature colleagues.
Washington Post: © 2009? Wishful Thinking, Perhaps, as Backlog Mounts
The envelopes fill white plastic tubs, stacked on hundreds of shelves in the basement of the Library of Congress. They're spreading to a ground-floor space that once housed the gift shop and are clogging offices on the fourth floor. And each day, the mail trucks bring about a thousand more.
Boston Globe: Aspiring teachers fall short on math
Nearly three-quarters of the aspiring elementary school teachers who took the state's licensing exam this year failed the new math section, according to results being released today that focus on the subject for the first time.
Washington Post: FCC Reviewing Arbitron's Counting of Minorities
The Federal Communications Commission yesterday launched a review into whether a Columbia-based broadcast research firm undercounts minority radio listeners.
LA Times: Labor unions find themselves card-checkmated
In the Ozark Mountain town of Rogers, Ark., more than 250 business owners gathered for lunch at a construction company last month to focus on what they saw as a major threat - a proposal in Congress to make it easier to form labor unions.
Chicago Tribune: Calorie counts could crowd fast-food menus
The battle over mandatory calorie disclosures on chain restaurant menus is heating up, as public health advocates and the restaurant industry prepare to duke it out in Congress.
Raleigh News & Observer: Parents gather to nurture nonbelief
On Sunday mornings, when many of their contemporaries are taking their seats in church pews, a group of young parents mingle in the living room of a suburban home while their children run around playing games.
Dallas Morning News: In digital age, interest in traditional yearbooks wanes
The largest yearbook companies, like Dallas' Taylor Publishing Company and Minneapolis' Jostens Yearbooks, won't report exact figures but admit to a slight decline in sales. They battle rising printing costs and a generation raised in a world of immediacy. Prom pictures turn up free on Facebook; memories are saved on iPhones. And an increasingly diverse population has never gawked at shelved emblems of their father's shaggy beard or their mother's oversized glasses.
Baltimore Sun: Fake cigarettes, fake smoke, real nicotine
From a distance, it looks like Tal Broustin is lighting up a cigarette, right in the middle of Arundel Mills, a clear no-no. And he is trying to get others to take drags, too, luring passersby to his kiosk by asking if they are trying to quit smoking.
USA Today: In tight job market, some teens start their own businesses
Amid shrinking job opportunities (the 16-to-19-year-old unemployment rate in April was 21.5%), many of his peers also are embracing their inner industrialist. The Small Business Administration's Office of Advocacy doesn't break out statistics for teens and tweens, but says in 2006, there were 492,000 people younger than 25 who were self-employed. Figures for that year are the latest available.
INTERNATIONAL
For the latest international news: http://edition.cnn.com/
CNN: Key UK lawmaker under fire in expenses scandal
A minister has lost his job in a furor over expenses claimed by British lawmakers and two others have been cast out from their party.
CNN: Sri Lankan president declares war 'victory'
Sri Lankan President Mahinda Rajapaksa, flashing a broad smile, declared victory Tuesday in the country's 25-year civil war against the Tamil Tiger rebels.
CNN: Philippines landslide kills 26
A landslide slammed into a village in southern Philippines on Monday, killing 26 people, emergency services personnel said.
NYT: Ex-U.S. Envoy Considers Key Role in Afghan Government
Zalmay Khalilzad, who was President George W. Bush's ambassador to Afghanistan, could assume a powerful, unelected position inside the Afghan government under a plan he is discussing with Hamid Karzai, the Afghan president, according to senior American and Afghan officials.
Financial Times: Brazil and China eye plan to axe dollar
Brazil and China will work towards using their own currencies in trade transactions rather than the US dollar, according to Brazil's central bank and aides to Luiz Inácio Lula da Silva, Brazil's president.
Jerusalem Post: Netanyahu: Obama will present new Mideast peace plan soon
After his highly-anticipated meeting with President Barack Obama at the White House, and after a 30-minute press conference, Prime Minister Binyamin Netanyahu gave a special briefing to Israeli reporters late Monday night, and told them that the president planned to formulate a new Middle East peace initiative which would be presented to soon.
Times of London: Courts rule British soldiers covered by right to life
Army chiefs can be sued over decisions taken in the heat of battle after a Court of Appeal ruling that troops must be protected by the Human Rights Act.
Telegraph UK: Intelligence officials 'laughed' at al Qaeda 7/7 bomb link
Chris Driver-Williams, a former senior IED analyst for the Defence Intelligence Staff said his claim provoked laughter at a meeting of intelligence agencies on the morning of the bombings.
BUSINESS
For the latest business news: http://www.CNNMoney.com.
CNN: Obama Pumping Up Auto Fuel Standards
In one of the federal government's most dramatic steps to cut greenhouse gas emissions ever, President Obama on Tuesday will combine California's tough auto-emission rules with the federal government's current fuel efficiency guidelines to create one tough new national standard for cars and light trucks, according to a senior administration official.
CNN: Fannie and Freddie in 'critical' condition
Fannie Mae and Freddie Mac, charged with helping lead the nation out of its housing crisis, are facing "critical" financial problems, federal regulators said Monday.
CNN: American Express to cut 4,000 jobs
American Express said Monday it will cut 4,000 jobs, or 6% of its global workforce, as part of an $800 million restructuring plan.
Bloomberg: Morgan Stanley, JPMorgan, Goldman Said to Apply to Repay TARP
Goldman Sachs Group Inc., JPMorgan Chase & Co. and Morgan Stanley applied to refund a combined $45 billion of government funds, people familiar with the matter said, a step that would mark the biggest reimbursement to taxpayers since the program began in October.
WSJ: Local Banks Face Big Losses
Commercial real-estate loans could generate losses of $100 billion by the end of next year at more than 900 small and midsize U.S. banks if the economy's woes deepen, according to an analysis by The Wall Street Journal.
Forbes: Bank Stocks To Triple
The banking industry's excessive capital, excessive liquidity, and excessive reserves have made the banks stronger than ever.
NYT: In Advising U.S., BlackRock Thrives in Uncertain Times
The financial crisis has ravaged many a Wall Street giant, but it has also produced a handful of winners. BlackRock, a money manager that is much admired but little known outside financial circles, is fast emerging as one of the nation's financial powerhouses.
LA Times: Wolfram Alpha: A new kind of search engine
How long does it take to get to Saturn at, say, the speed of light? With Wolfram Alpha, the online "computational knowledge engine" that launched Monday, the answer - 75 minutes - can be found in a fraction of a second.
Chicago Tribune: JetBlue extends refunds for those who have lost their jobs
JetBlue Airways Corp. said Monday it is extending its refund program for customers who lose their jobs after buying tickets.
In Case You Missed It
To watch the latest interviews and reporting: http://www.cnn.com/video.
CNN: Pelosi under fire
Rep. Nancy Pelosi tries to fend off GOP outrage at her CIA allegations and moves to shore up Democratic support.
CNN: Clinton talks Facebook, Twitter
Secretary of State Hillary Clinton speaks at Barnard College of Columbia University's commencement ceremony.
CNN: Tapping a rival
Appointing Utah's Governor as ambassador to China may be a smart political maneuver for the president. CNN's Brian Todd explains.