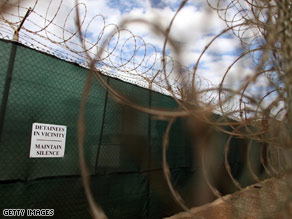 CNN has learned that Senate Democrats will vote against funding the closing of the Guantanamo Bay military prison.
WASHINGTON (CNN) - CNN has learned Senate Democrats will pull money to close the Guantanamo Bay military prison from a war funding bill instead of face an onslaught of criticism from Republicans, who argue it would be reckless to shutter the prison before the Obama administration has decided where to transfer the terrorism suspects who are detained there.
Democratic leaders made the decision this morning, according to two Senate Democratic leadership sources. It is a blow to President Obama who - in one of his first official acts as president - announced that he would close the base by next January 22.
The Senate war supplemental bill, which is scheduled to be voted on this week, included $80 million for the Department of Defense and the Department of Justice to begin the process of shutting down the prison.
Now, that money will be stripped out and replaced with language saying no funds can be used to transfer Guantanamo detainees to the United States, and no additional money will be approved, until 60 days after the president submits to Congress his plan to close the facility. That language is similar to a provision in the House bill.
Republicans launched a high-profile campaign against closing the base prematurely, just this morning releasing a statement headlined: "Meet your new neighbor, Khalid Sheikh Mohammad?"
"Republicans see this as a wedge issue against Democrats and we're not going to let them do it," explained one of the sources.
Privately, some Democrats have complained the president put them in an awkward position of having to defend funding the closure before a plan was developed, one of the sources said.