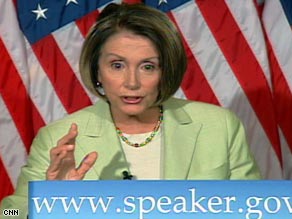 House Speaker Nancy Pelosi said last week that she was misled by the CIA about the use of enhanced interrogation techniques.
OXON HILL, Maryland (CNN) - Newt Gingrich might want Nancy Pelosi to be replaced as Speaker of the House, but the Republican party chairman in Pelosi's home state of California wants her stick around for just a little while longer.
"She helps me raise so much money on the phone and mail," California GOP chairman Ron Nehring said Tuesday at a gathering of the Republican National Committee. "We love her."
"We don't like Harry Reid because nobody knows who he is," he chuckled. "But we love Nancy Pelosi, because when you're one of these Democrat leaders and your negatives are almost twice what your positives are, that's just wonderful, wonderful news. It's a great gift for us."
According to a CNN poll released Monday, nearly half of all Americans - 48 percent - disapprove of how the California Democrat she is handling her job as Speaker of the House, while 39 percent approve of her performance.
Nehring said Pelosi should hang around until the next election.
"She should remain Speaker for every single day in 2010," he said.