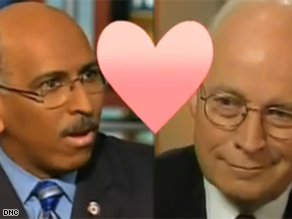 The DNC is out with a new Web video highlighting GOP support of  Cheney.
(CNN) - Eager to keep Dick Cheney in the spotlight, the Democratic National Committee released a Web video Wednesday highlighting recent GOP praise for the former vice president's series of television appearances.
Set to Caleb Delamont's Let Me Know That You Love Me, the video shows clips of House Minority Leader John Boehner and Republican National Committee Chairman Michael Steele praising Cheney's newfound media visibility, even as officials in the Republican party have sought to spotlight a new generation of leadership.
"The Republican Party [hearts] Dick Cheney," the video declares.