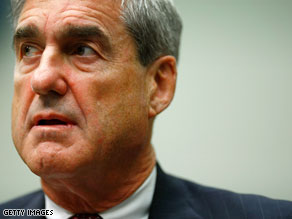 FBI Director Robert Mueller says the FBI is not investigating Nancy Pelosi's charge that she was misled by the CIA.
(CNN) - FBI Director Robert Mueller told members of the House Wednesday that it is a crime to lie to Congress, but said the bureau is not investigating the charge by House Speaker Nancy Pelosi that the CIA misled her.
In response to questions from California Rep. Darrell Issa, ranking Republican on the Oversight and Government Reform Committee, Mueller said procedures require Congress to refer requests for an investigation to the Justice Department. If it is determined by Justice officials that a basis exists for an investigation, the FBI would then be asked to look into the matter. When Issa said he has standing to ask for such an investigation, Mueller said he would pass the request on to the Justice Department.