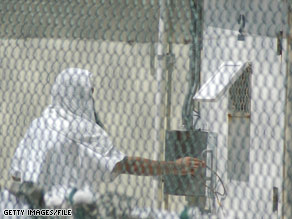 A federal judge has ruled that the U.S. may some detainees indefinitely.
WASHINGTON (CNN) - The president retains the power to hold indefinitely and without charges some accused terrorists at the Guantanamo Bay, Cuba, military detention camp, a federal judge has ruled.
The decision by District Judge John Bates said those prisoners the United States deems responsible for the 9/11 attacks, or those who are or were al Qaeda or Taliban members can be detained. But he limited the Obama administration's power to imprison those who it says "support" terror or enemy forces.
The decision comes as the White House and Congress face a showdown over what to do with hundreds of Guantanamo prisoners when the facility at the U.S. naval base in Cuba is closed, a move Obama has promised will occur before February. Many lawmakers opposed housing the prisoners in the United States.
"The president has the authority to detain persons that the president determines planned, authorized, committed, or aided the terrorist attacks that occurred on September 11, 2001, and persons who harbored those responsible for those attacks," wrote Bates in an opinion issued late Tuesday.
"The president also has the authority to detain persons who are or were part of Taliban or al Qaeda forces or associated forces that are engaged in hostilities against the United States or its coalition partners, including any person who has committed (i.e., directly participated in) a belligerent act in aid of such enemy armed forces," the Washington-based judge said.
Among the top-level prisoners in custody at the Guantanamo Bay facility is Khalid Sheikh Mohammed, the alleged mastermind of the 9/11 attacks.