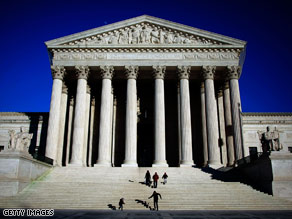 President Obama met today with a potential Supreme Court nominee.
WASHINGTON (CNN) - A federal appeals court judge from Chicago has met privately with the president to discuss the upcoming Supreme Court vacancy, a source close to the selection process tells CNN.
Diane Wood, who sits on the 7th U.S. Circuit Court of Appeals, was in town Wednesday to attend an annual conference on judicial independence at Georgetown Law Center. When questioned by a reporter, she refused to discuss whether she was to sit down with the president.
"I'm not answering anything on that," she told CNN. The 58-year-old judge is not on the official program of speakers at the conference, sponsored by retired Justice Sandra Day O'Connor, but she was in the audience for a morning session.
Another leading candidate for the vacancy to be created by Justice David's Souter's pending retirement is Solicitor General Elena Kagan. She gave opening remarks at the one-day session, talking about the importance of her role representing the federal government before the the Supreme Court. Souter later addressed the gathering with a call for greater citizen understanding and appreciation for the role courts play in society.
Sources say Wood is among the leading candidates to become the nation's 111th justice, along with Kagan and New York-based federal appeals Judge Sonia Sotomayor, among others.
Wood, who also teaches part time at the University of Chicago, abruptly canceled her Tuesday evening civil procedure class without explanation, a source said.
Among leading non-judicial candidates being considered is Michigan Gov. Jennifer Granholm. Sources close to the selection process said she, too, has met privately with the president, when she was in town earlier this week to participate in a White House announcement on fuel efficiency standards for automobiles.
Considered one of the sharpest minds on the Chicago, Illinois-based appeals court, Wood has known Obama from his days as a part-time instructor at the University of Chicago. They have remained casual, but not close, friends since then. She will turn 59 in July and is among the oldest candidates being given serious scrutiny for the high court.
The White House has given no official indication of when Obama will make his choice, but sources say an announcement is expected by month's end.