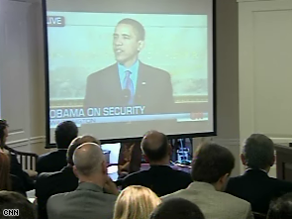 An audience awaiting Dick Cheney speak watched President Obama's speech on CNN.com/live.
(CNN) - Moments before Dick Cheney took the stage, his audience seemed to belong to President Obama.
The conservative crowd waiting to hear from the vice president Thursday morning at the American Enterprise Institute gave its attention in the meantime to the CNN.com/Live broadcast of Obama's National Archives address.