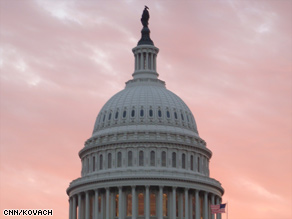 The CNN Washington Bureau's morning speed read of the top stories making news from around the country and the world.
WASHINGTON/POLITICAL
For the latest political news: www.CNNPolitics.com.
CNN: Lives of McCain, Obama to overlap at Naval commencement
When President Obama delivers the commencement address at the U.S. Naval Academy on Friday, he will have a former presidential candidate and proud parent of one of the graduates in attendance.
CNN: Senate OKs war funding, blocks release of detainee pictures
The Senate late Thursday easily passed a $91 billion spending bill for the wars in Iraq and Afghanistan. After stripping it of funds to close the military prison at Guantanamo Bay, Cuba, and placing restrictions on the transfer of its detainees, the bill was adopted 86 to 3.
CNN: Obama, Cheney offer competing views on national security
President Obama and former Vice President Dick Cheney offered competing views on how to keep America safe in back-to-back speeches Thursday.
CNN: Obama's energy bill moving forward
President Obama's push for a new energy policy got a major boost Thursday when a key House panel approved a plan aimed at addressing climate change.
CNN: Obama defends plan to close Gitmo
President Obama on Thursday defended his decision to shutter the military detention center at Guantanamo Bay, Cuba, saying the prison has made the United States less safe and set back the country's "moral authority."
CNN: Administration struggles to find a workable Gitmo plan it can sell
Attorney General Eric Holder's Guantanamo Review Task Force is struggling to sort the prison detainees into five neatly ordered lists, as government lawyers try to somehow fashion a plan which will clear expected legal challenges while satisfying skeptical lawmakers and a nervous public.
CNN: Biden urges Pennsylvanians to back Specter
Sen. Arlen Specter continues to feel the love from the White House, with Vice President Joe Biden penning a campaign e-mail Thursday for the Republican-turned-Democrat.
TIME: The Meaning of Michelle Obama
It was just two days after the Inauguration when an e-mail went around to Michelle Obama's staff, instructing everyone to be in the East Room of the White House at 3 that afternoon. The First Lady's advisers arrived to find the room filled with ushers and plumbers, electricians and maids and kitchen crew gathered in a huge circle, and Michelle in a T shirt and ponytail, very casual and very much in charge.