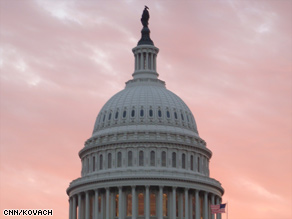 The CNN Washington Bureau's morning speed read of the top stories making news from around the country and the world.
WASHINGTON/POLITICAL
For the latest political news: www.CNNPolitics.com.
CNN: Lives of McCain, Obama to overlap at Naval commencement
When President Obama delivers the commencement address at the U.S. Naval Academy on Friday, he will have a former presidential candidate and proud parent of one of the graduates in attendance.
CNN: Senate OKs war funding, blocks release of detainee pictures
The Senate late Thursday easily passed a $91 billion spending bill for the wars in Iraq and Afghanistan. After stripping it of funds to close the military prison at Guantanamo Bay, Cuba, and placing restrictions on the transfer of its detainees, the bill was adopted 86 to 3.
CNN: Obama, Cheney offer competing views on national security
President Obama and former Vice President Dick Cheney offered competing views on how to keep America safe in back-to-back speeches Thursday.
CNN: Obama's energy bill moving forward
President Obama's push for a new energy policy got a major boost Thursday when a key House panel approved a plan aimed at addressing climate change.
CNN: Obama defends plan to close Gitmo
President Obama on Thursday defended his decision to shutter the military detention center at Guantanamo Bay, Cuba, saying the prison has made the United States less safe and set back the country's "moral authority."
CNN: Administration struggles to find a workable Gitmo plan it can sell
Attorney General Eric Holder's Guantanamo Review Task Force is struggling to sort the prison detainees into five neatly ordered lists, as government lawyers try to somehow fashion a plan which will clear expected legal challenges while satisfying skeptical lawmakers and a nervous public.
CNN: Biden urges Pennsylvanians to back Specter
Sen. Arlen Specter continues to feel the love from the White House, with Vice President Joe Biden penning a campaign e-mail Thursday for the Republican-turned-Democrat.
TIME: The Meaning of Michelle Obama
It was just two days after the Inauguration when an e-mail went around to Michelle Obama's staff, instructing everyone to be in the East Room of the White House at 3 that afternoon. The First Lady's advisers arrived to find the room filled with ushers and plumbers, electricians and maids and kitchen crew gathered in a huge circle, and Michelle in a T shirt and ponytail, very casual and very much in charge.
Washington Post: Tax on Medical Benefits Gains Traction
A new tax on employer-provided health insurance is emerging as a likely option to finance an overhaul of the nation's health-care system, key Democrats say, despite opposition from organized labor and possibly the Obama administration.
Wall Street Journal: Energy Groups Urge Faster U.S. Aid for Power, Pollution Projects
The Obama administration is coming under pressure from energy companies to speed up decisions on more than $100 billion of loan guarantees for projects intended to boost the use of renewable power and reduce pollution.
LA Times: Washington declines to help California, at least for now
California needs to solve its financial crisis by itself and should not expect an emergency bailout from the White House, an array of Obama administration officials said Thursday, making clear they had no appetite to step in and provide financial assistance or loan guarantees.
Washington Post: TSA Unions to Use Rankings as Bargaining Chip
There are two ways of looking at the Transportation Security Administration's performance in the 2009 Best Places to Work in the federal government report released this week.
Wall Street Journal: Texas Mayor Trades Job for Romance in Mexico
J.W. Lown, the mayor of San Angelo in West Texas, recently narrated a video touting his town as a great place to live. Then he left to pursue another passion. Mr. Lown resigned this week - less than a month after winning a fourth two-year term in a landslide - saying he was leaving to carry on a relationship with a Mexican man who had been living illegally in the U.S.
NATIONAL
For the latest national news: www.CNN.com.
CNN: Suspects in alleged synagogue bomb plot denied bail
Four men accused by prosecutors of being "eager to bring death to Jews" were ordered held without bail Thursday, accused of trying to bomb two New York synagogues and planning to fire surface-to-air missiles at U.S. military planes.
CNN: Nearly 96,000 pounds of ground beef products recalled
An Illinois meat producer recalled nearly 96,000 pounds of potentially contaminated beef, the federal government announced Thursday.
Wall Street Journal: FAA Probes Trainer of Commuter Pilots
An airline that has trained many of the nation's commuter pilots - including the captain of the Continental Connection flight that crashed near Buffalo, N.Y., in February - faces a possible $1.3 million government penalty for alleged crew scheduling and maintenance violations.
Boston Globe: Advocate for others fights to die at home
Hospitalized against her will for depression 43 years ago, Judi Chamberlin of Arlington has devoted the decades since to championing patients' rights. She authored a seminal book touting patient control in mental health treatment, helped mobilize a movement, and won a following.
NYT: At the Hospital, the Faces of Fear and Swine Flu
The staff wore green masks, the patients wore blue. As the sun set over Queens on Wednesday, the witching hour began in the pediatric emergency room at Schneider Children's Hospital.
NYT: First Black Mayor in City Known for Klan Killings
The city of Philadelphia, Miss., where members of the Ku Klux Klan killed three civil rights workers in 1964 in one of the era's most infamous acts, on Tuesday elected its first black mayor.
NYT: 147 Gang Members Charged After Inquiry in Calif.
Federal prosecutors have charged 147 members of a predominantly Latino street gang that has long ruled the streets of Hawaiian Gardens, a city of 14,000 east of Long Beach, with making racial attacks on African-Americans and drug dealing.
NYT: In Bronx Bomb Case, Steps and Missteps, on Tape
They were four ex-convicts — one a crack addict, another whose most recent arrest involved snatching purses — and they gathered their terror tools as they went.
INTERNATIONAL
For the latest international news: http://edition.cnn.com/
CNN: Torture video threatens U.S.-UAE nuclear deal
President Obama on Thursday sent a civil nuclear agreement with the United Arab Emirates to the Senate for ratification, but its passage remains uncertain, thanks to a recently disclosed video.
CNN: Accused Somali pirate arraigned in U.S. court
A Somali suspect in the hijacking of the U.S.-flagged Maersk Alabama last month pleaded not guilty to 10 counts including piracy, hostage-taking, and firearms charges in U.S. District Court in New York on Thursday.
CNN: Globovision president's home raided
Venezuelan federal investigators raided the suburban Caracas home of the president of Globovision, a privately run television station that has frequently opposed President Hugo Chavez's policies.
CNN: Malawi's Mutharika wins second term
Malawian President Bingu wa Mutharika was re-elected to a second term, election officials said early Friday, amid allegations of vote rigging by the main opposition candidate.
CNN: Global hunt for accidental millionaires
An international manhunt was under way Thursday for a New Zealand couple who fled after a bank mistakenly paid them NZ$10 million (US$6 million) when they applied for a loan of just NZ$10,000.
CNN: Tycoon, ex-cop guilty of pop star's murder
An Egyptian business tycoon and a former police officer have been found guilty of the July slaying of rising Lebanese pop singer Suzanne Tamim.
Wall Street Journal: Gulags, Nukes and a Water Slide: Citizen Spies Lift North Korea's Veil
In the propaganda blitz that followed North Korea's missile launch last month, the country's state media released photos of leader Kim Jong Il visiting a hydroelectric dam and power station. Images from the report showed two large pipes descending a hillside. That was enough to allow Curtis Melvin, a doctoral candidate at George Mason University in suburban Virginia, to pinpoint the installation on his online map of North Korea.
Wall Street Journal: China Faces Unexpected Problem Drilling for Oil in Iraq - Farmers
China National Petroleum Corp. began work in March to develop the Ahdeb oil field in southeastern Iraq, marking the first significant foreign investment in the country's vast but creaky oil industry.
McClatchy: Pakistani army fails to rescue civilian allies in Swat
Short of food and desperate for the military to support them, some 200,000 people remain trapped in northern Swat as the Pakistani army battles to wrest the area farther south back from Taliban extremists, residents said Thursday.
Washington Post: Colombian Farmers Get Broad Incentives To Forgo Coca Crops
Colombia, with $8 billion in U.S. backing since the late 1990s, has tried everything to eradicate the crop used to make cocaine.
Times of London: Silvio Berlusconi vows to grab more power in Italy at Parliament's expense
Silvio Berlusconi vowed yesterday to change the Italian constitution to give himself greater power as Prime Minister at the expense of Parliament, which he denounced as "useless".
NYT: Oil Industry Braces for Trial on Rights Abuses
Fourteen years after the execution of the Nigerian author and activist Ken Saro-Wiwa by Nigeria's former military regime, Royal Dutch Shell will appear before a federal court in New York to answer charges of crimes against humanity in connection with his death.
NYT: Tiananmen Now Seems Distant to China's Students
On April 30, the cellphones of the 32,630 students at Peking University, a genteel institution widely regarded as one of China's top universities, buzzed with a text message from the school administration. It warned students to "pay attention to your speech and behavior" on Youth Day because of a "particularly complex" situation.
Wall Street Journal: In France, Immigrant Offspring Return to Ancestral Homelands
Nawal El Kahlaoui grew up near Paris as the daughter of a mechanic who left Morocco to seek a better life in France. But after finishing her university studies here, Ms. Kahlaoui moved back to Morocco to find work.
NYT: At Turkish Border, Armenians Are Wary of a Thaw
Vazgen Shmavonyan keeps a flock of doves at an Armenian Orthodox pilgrimage site here, and they readily venture across the border into Turkey, less than a mile away. But Mr. Shmavonyan cannot follow, as if he is the caged one. Off they go, symbols of something that this region has not had a whole lot of.
NYT: Spread of Swine Flu Puts Japan in Crisis Mode
It all began at a high school volleyball tournament here on May 2 — or so residents of this Japanese port city suspect.
BUSINESS
For the latest business news: www.CNNMoney.com.
CNN: Florida bank collapses – firms swoop in
A consortium of private equity firms has acquired BankUnited FSB in Florida after the savings and loan was shut down by federal regulators Thursday.
CNN: Another $7.5 billion bailout for GMAC
The Obama administration announced Thursday that it has invested $7.5 billion in GMAC, aiming to prop up the troubled lender and boost its ability to make loans to Chrysler dealers and customers.
CNN: AIG's Liddy to step down
AIG Chief Executive Edward Liddy announced Thursday that he plans to step down from the company once the insurer's board of directors finds a replacement.
Seattle Times: Boeing net orders climb to zero for the year
Boeing's tally of commercial airplane orders for 2009 climbed out of negative territory to zero this week. An update to the company's Web site Thursday showed one 737 ordered by South American airline Aerolineas Argentinas and one 777 sold to an unidentified customer, as well as one 737 cancelation.
Financial Times: Markets fall amid fears of downgrade
The US dollar, stocks and bonds all fell on Thursday as concerns that the US could face a credit rating downgrade combined with unease about Federal Reserve strategy to generate an across-the-board sell-off in US assets.
Wall Street Journal: Recession Turns Malls Into Ghost Towns
Malls, those ubiquitous shopping meccas that sprang up in the 1950s, are dwindling in number, with many struggling properties reduced to largely vacant shells.
Boston Globe: NEEP: Mass. recession won't end till early 2010
The recession in Massachusetts will run deeper and longer than in the nation as a whole, and job losses this year will exceed those of the 2001 downturn, according to new economic forecasts.
Wall Street Journal: California Cities Irked by Borrowing Plan
California Gov. Arnold Schwarzenegger, in his efforts to find funds to balance the state budget, has proposed borrowing $2 billion from municipal governments over the next fiscal year, a tactic that is rankling local officials up and down the state.
Denver Post: Barter system booms in Colo.
Unemployed since November, Eugene Sobczak wanted nothing more than to aid another cash-strapped soul, gratis, when he read the online ad asking for help attaching a car bumper.
In Case You Missed It
To watch the latest interviews and reporting: http://www.cnn.com/video.
CNN: Fast reader impresses Congress
Speed reader recites 900-page bill, and impresses members of Congress.
CNN: Plane leaks during flight
A plane leaks fuel on a trans-Pacific flight. CNN's Brian Todd talks to the passenger who took video, and took action.
CNN: Bull on the loose at apartment
A woman caught a bull wandering in front of her apartment. KHOU's Kevin Reece has the story.
Subscribe to the CNN=Politics DAILY podcast at http://www.cnn.com/politicalpodcast.
And now stay posted on the latest from the campaign trail by downloading the CNN=Politics SCREENSAVER at http://www.CNN.com/situationroom.