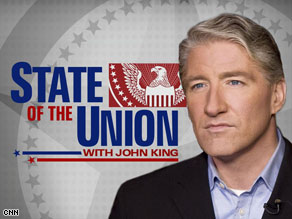 CNN's John King looks back at Sunday's talk shows and what will make news in the coming week.
Editor's note: John King, CNN's chief national correspondent and "State of the Union" host, examines the news made in Sunday talk and offers up this Monday morning crib sheet on what to watch this week in politics. Please note that all quotes are from rush transcripts and are subject to change. If you'd like to receive a sneak peek of next week's news in your inbox every Sunday, you can sign up for the "Political Ticker – State of the Union Sunday Edition" at http://www.cnn.com/profile/
(CNN) - The sounds of Sunday on Memorial Day weekend included the sonic booms of the Shuttle Atlantis returning home. As always, it was a breathtaking sight.
There was no holiday break from the sharp talk and advice-giving in Washington as:
• President Obama prepares to make his Supreme Court pick.
• Colin Powell stirred anew the debate over the size and shape of the GOP's "big tent."
• An array of voices stirred the national security debates that in recent days have dominated a capital most would have thought would be more focused on the new administration's domestic agenda.