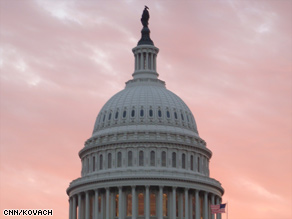 The CNN Washington Bureau's morning speed read of the top stories making news from around the country and the world.
WASHINGTON/POLITICAL
For the latest political news: www.CNNPolitics.com.
CNN: North Korea fires short-range missiles
North Korea fired two short-range missiles from its east coast Tuesday, South Korea's Yonhap news agency cited a South Korean official as saying, one day after conducting a nuclear test and firing another short-range missile.
CNN: N. Korea nuclear test reverberates worldwide
South Korea formally announced Tuesday that it would join a U.S.-led effort to crack down on trafficking in weapons of mass destruction in response to North Korea's new nuclear test.
CNN: PM: Italy will consider accepting Guantanamo detainees
Italian Prime Minister Silvio Berlusconi said Monday his country will consider accepting an unspecified number of detainees from the U.S. military detention facility at Guantanamo Bay, Cuba.
CNN: Nevada governor turns down Obama airport meeting
Nevada's Republican governor has turned down an invitation from the White House to briefly greet President Obama when he visits the state tomorrow for a Democratic fundraising event, citing comments the president made earlier this year calling on companies that received taxpayer-funded bailouts to avoid wasting money on luxuries like company planes and Vegas vacations.
CNN Poll: Powell vs. Cheney and Limbaugh
As Colin Powell fires back against Dick Cheney and Rush Limbaugh in the latest skirmish in the battle over the future of the Republican Party, a new national poll indicates that Americans have a much more favorable opinion of Powell than Cheney or Limbaugh.
CNN: Analysis: Powell flap gets GOP to ask 'What kind of party are we?'
Colin Powell stirred up the Republican Party's very public internal debate about the direction of the party and asserted it's losing because it doesn't appeal to moderates like him.
CNN: Uneasy political calculus of diversity and Supreme Court
Hispanic groups want history to be made with a Latino or Latina justice when President Obama makes his selection to fill the upcoming Supreme Court vacancy.
Washington Post: Fed's Next Task: Reeling In Lifelines
As if the worst recession since World War II, the near collapse of the financial system, and the prospect of double-digit unemployment weren't enough to deal with, the Federal Reserve now has something else to worry about: success.
NYT: Aided by Poker Devotees, Lawmaker Pushes to End the Ban on Online Gambling
After coming up short in a first effort, a Democratic lawmaker has again introduced legislation that would roll back a ban on Internet gambling enacted when Republicans led Congress.
Washington Post: Showdown Looming On 'State Secrets'
President Obama vowed last week to rein in the use of a legal privilege that allows the administration to discard lawsuits that involve "state secrets," promising that a new policy is in the works that will quell criticism by civil libertarians.
Washington Post: Campaigns Cope With Voters Who Aren't Fired Up
After millions of dollars, hundreds of barbecues, coffees and fish fries and five debates, this is what the men running for the Democratic nomination for governor of Virginia are struggling with a couple of weeks before the primary:
Washington Post: Face-Lift for Foreclosure Prevention
The Obama administration is attempting to revive a stalled government foreclosure prevention program that could restore equity to hundreds of thousands of borrowers whose home values have plummeted.
Washington Post: Obama Set to Create A Cybersecurity Czar With Broad Mandate
President Obama is expected to announce late this week that he will create a "cyber czar," a senior White House official who will have broad authority to develop strategy to protect the nation's government-run and private computer networks, according to people who have been briefed on the plan.
Financial Times: Obama urged to curb Buy American measures
The Obama administration faces mounting pressure to wind back Buy American measures passed by Congress this year amid growing concerns that they hurt some US workers they were designed to help.
LA Times: U.S. business-government relations undergo a climate change
Under bright spring sunshine, the mood at the White House was celebratory last week as President Obama announced an agreement on new rules to force drastic improvements in the fuel efficiency and tailpipe emissions of the nation's cars and trucks.
NATIONAL
For the latest national news: www.CNN.com.
CNN: Lawyer: Mom prepared to allow son to undergo chemotherapy
A 13-year-old cancer patient and his mother who last week fled their rural home in Sleepy Eye, Minnesota, rather than undergo chemotherapy returned voluntarily Monday and will accept whatever course of treatment a court may order, their lawyer said.
CNN: Explosion rocks Upper East Side in New York
An explosion outside a Starbucks on the Upper East Side of Manhattan sent frightened people running into the street early Monday.
CNN: Family's foreclosure auction 'bargain' pays off
For Victor Guevares, winning a bid at a raucous foreclosure auction two months ago was just the first step toward achieving his dream of home ownership. And after getting through several obstacles along the way, he finally moved his family into the two-story, three-bedroom house in Queens.
USA Today: State Dept. has few who speak language of area where Taliban operates
Complicating the Obama administration's plan to ramp up civilian aid to Pakistan and Afghanistan, the State Department employs just 18 foreign service officers who can speak the language of the region where the Taliban insurgency rages, according to records and interviews.
NYT: Tested Early by North Korea, Obama Has Few Options
Facing the first direct challenge to his administration by an emerging nuclear weapons state, President Obama declared Monday that the United States and its allies would "stand up" to North Korea, hours after that country defied international sanctions and conducted what appeared to be its second nuclear test.
NYT: Autopsies of War Dead Reveal Ways to Save Others
Within an hour after the bodies arrive in their flag-draped coffins at Dover Air Force Base, they go through a process that has never been used on the dead from any other war.
NYT: California Couples Await Gay Marriage Ruling
After more than 30 years together, Brent Lok and Wade French have accumulated more than a few possessions, including a hilltop home, an impressive collection of Asian art and, alongside their diplomas, vacation photos and family portraits, a framed marriage license, dated June 17, 2008.
NYT: Principals Younger and Freer, but Raise Doubts in the Schools
They are younger than their predecessors, have less experience in the classroom and are, most often, responsible for far fewer students. But their salaries are higher and they have greater freedom over hiring and budgets, handling a host of responsibilities formerly shouldered by their supervisors.
NYT: Bankruptcy for G.M. Would Tax the Experts
The decline of General Motors may be putting thousands of auto workers and managers out of work, but it will be putting a lot of lawyers to work.
Washington Times: Dealers at doomed franchises rap quality of GM, Chrysler
It's no way to run a railroad, area auto dealers say – produce cars that consistently ride in the rear of Consumer Reports' annual rankings, and then blame the dealers when they don't sell.
INTERNATIONAL
For the latest international news: http://edition.cnn.com/
CNN: Thousands flee life made 'worse than hell' by violence in Pakistan
Young and old, poor and prosperous, sick and healthy - residents of Pakistan's Swat Valley continue to flee the violence that has erupted there as the military clashes with the Taliban.
CNN: Iran's Ahmadinejad dismisses nuclear talks with other nations
Iranian President Mahmoud Ahmadinejad on Monday ruled out nuclear negotiations with other nations, saying, "Iran's nuclear issue is over, in our opinion."
CNN: Zakaria: Elections could mark India's debut as great power
Indian Prime Minister Manmohan Singh took the oath of office Friday for a second consecutive term after winning a mandate for his Congress party.
CNN: Berlusconi: My work is a burden free of gaffes
Italian Prime Minister Silvio Berlusconi has told CNN he has never committed a gaffe and that he doesn't like his job much these days.
McClatchy: Hamas turns to mud to fight Israel's economic blockade
With Israel refusing to allow building materials across the border, the Hamas-led government in Gaza is pushing a new plan to replace thousands of homes destroyed by Israel's winter military offensive: mud-brick buildings.
NYT: In Lebanon's Patchwork, a Focus on Armenians' Political Might
Their political apparatus is a model of discipline. Their vast array of social services is a virtual state within a state. Their enemies accuse them of being pawns of Syria and Iran.
NYT: Politician's Novel Idea for Mexican Tourism: Statue of Swine Flu Survivor
Édgar Hernández, the Mexican kindergartner who is the first person known to have contracted the swine flu now circling the globe, may soon have a statue erected in his honor in the mountain village where he lives.
BUSINESS
For the latest business news: www.CNNMoney.com.
CNN: Zombie banks walk among us
Maybe the so-called "zombie" banks didn't die after all.
NYT: Europe Feels the Strain of Protecting Workers and Plants
For Klaus Franz, the top union official at General Motors' Opel unit here, the difference between how the United States and Europe confront the auto industry's global overcapacity problem is simple.
WSJ: U.S. Cracks Down on Corporate Bribes
The Justice Department is increasing its prosecutions of alleged acts of foreign bribery by U.S. corporations, forcing them to take costly steps to defend against scrutiny.
WSJ: Mortgage Modifying Fails to Halt Defaults
Mortgage-servicing companies are struggling to find the best way to modify mortgages so that borrowers can stay in their homes, according to a Fitch Ratings report expected to be released this week.
WSJ: Twitter Trips on Its Rapid Growth
Twitter Inc. is confronting a slew of challenges - from hiring, to keeping its service up and running, to finding meaningful revenue - as the micro-blogging service deals with sudden stratospheric growth.
In Case You Missed It
To watch the latest interviews and reporting: http://www.cnn.com/video.
CNN: Oh Craps!
New Jersey grandma breaks craps-shooting record. CNN's Jeanne Moos reports it's like getting a hole in one with dice.
CNN: Women WWII pilots
Jessica Yellin reports on the women who helped train the pilots who fought in World War
CNN: Remembering our veterans
A 91-year-old veteran goes to the WWII Memorial to help veterans sign up for the Library of Congress WWII registry
Subscribe to the CNN=Politics DAILY podcast at http://www.cnn.com/politicalpodcast.
And now stay posted on the latest from the campaign trail by downloading the CNN=Politics SCREENSAVER at http://www.CNN.com/situationroom.