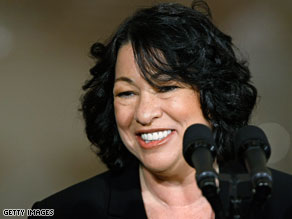 Judge Sonia Sotomayor would be the first Hispanic U.S. Supreme Court justice if confirmed.
Republicans are in yet another tough spot – this one when it comes to the confirmation of Judge Sonia Sotomayor to the Supreme Court of the United States. Chalk up another brilliant bit of political strategy to our new president.
President Obama's nominee would be the first Hispanic justice — and only the third woman justice — in the history of the nation's highest court.
Conservative critics are branding her as a liberal activist judge, and are pointing to her past comments. In 2001, Sotomayor said, "I would hope that a wise Latina woman with the richness of her experiences would more often than not reach a better conclusion than a white male who hasn't lived that life."