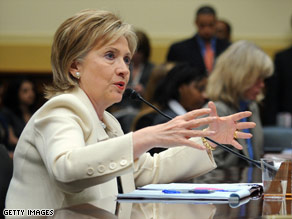 Hillary Clinton said Wednesday that Israel should halt its settlement activity.
WASHINGTON (CNN) – On the eve of President Obama's meeting with Palestinian President Mahmoud Abbas, Secretary of State Hillary Clinton said Wednesday that the Obama administration wants a complete halt to settlement activity by Israel, which she argued would help Washington's Mideast peace efforts.
"We think it is in the best interest of the effort that we are engaged in that settlement expansion cease," she said following a meeting with Egyptian Foreign Minister Ahmed Ali Aboul Gheit.
Clinton spoke hours before having dinner with Abbas, who will meet with President Obama at the White House Thursday.
Last week President Obama met with Israeli Prime Minister Netanyahu, where he pressed him to commit to the creation of a Palestinian state and halt settlement activity to create a better atmosphere for peace talks.
Netanyahu has committed to removing illegal settlement "outposts," but has pledged to continue expansion, or "natural growth"of existing settlements.
"The president was very clear when Prime Minister Netanyahu was here, he wants to see a stop to settlements," Clinton said. "Not some settlements, not outposts, not natural growth exceptions. That is our position that is what we have communicated very clearly not only to the Israeli's but to the Palestinians and others, and we intend to press that point."
During her meeting with her Egytpian counterpart, Clinton reaffirmed the U.S. commitment to a two-state solution, calling Egypt and integral partner in the Obama administration's mideast peace efforts.
The body language between Clinton and Aboul Gheit was much more relaxed than with her predecessor Condoleezza Rice, with whom the minister had a tense relationship.
The Bush administration alienated Egypt by making human rights and democracy in the Middle East a cornerstone of it's foreign policy.
Aboul Gheit, who wrapped up two days of meetings in Washington, said the Obama administration is "very different from the Bush administration"and less "rhetorical" in its approach to dealing with Cairo.
"They are disucssing issues but they also listen, and that is very important to listen and understand where you come from and understand the reason," he said.
President Obama is traveling to Cairo next week, where he will give a major address to the Arab and Muslim world.
"We are full of expetations for the presdient's visit," Aboul Gheit said.