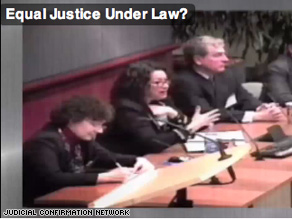 A new Web ad attacks Sotomayor for saying 'policy is made' in appellate courts.
(CNN) - The conservative Judicial Confirmation Network plans to release a Web video later today that hits back at the White House's suggestion yesterday that Judge Sonia Sotomayor's quote that "policy is made" on appellate courts has been taken out of context.
The video will push the idea that Sotomayor has written quite a few law review articles that support the comments she made at Duke University.
Gary Marx of the Judicial Confirmation Network tells CNN the group is spending in the ballpark of about $200,000 to put banner ads on Web sites touting this Web video and linking to it, in the hopes of reaching millions of activists and supporters.
There are no plans as yet for a TV buy.