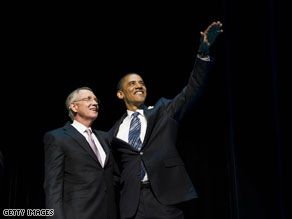 President Obama headlined a fundraiser for Senate Majority Leader Harry Reid Wednesday.
(CNN) - One day after President Obama was the headliner at a fundraiser at Caesar's Palace in Las Vegas for Senate Majority Leader Harry Reid, he heads tonight to Hollywood for two fundraisers for the Democratic Party.
The president will be the featured speaker at Beverly Hilton Hotel in Beverly Hills, California. The events, which will also include performances by Jennifer Hudson and Earth Wind and Fire, are estimated to bring in around $3 million.
The campaign cash will come in handy, as the Democratic National Committee trails the Republican National Committee by about $15 million. The DNC raised around $4.4 million last month, about a million dollars less than the RNC.
UPDATE: Sen. Arlen Specter will join Obama at the Beverly Hills fundraiser, his fist appearance at a DNC event since switching sides earlier this month.
Last night, the president helped Reid rake in an estimated $1-2 million, according to the Senate Majority Leader's office. Reid is up for re-election next year, and Republicans think he's vulnerable. The most recent polling in Nevada suggests that only a minority of voters there think Reid deserves to be re-elected.
But the GOP has yet to come up with a competitive candidate to go up against Reid. The Senate Majority Leader hopes to keep it that way by raising a mountain of campaign cash for what's expected to be an expensive re-election campaign - a fundraising effort that got a major presidential assist last night in Las Vegas.