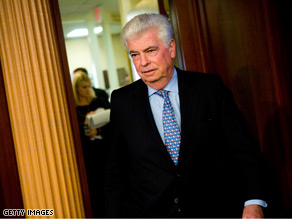 Senator Chris Dodd faces a primary contest against Connecticut businessman Merrick Alpert.
(CNN) - A new poll suggests that the worst may be over for Sen. Chris Dodd as the Democrat from Connecticut gears up for re-election next year.
A Quinnipiac University survey of Connecticut voters indicates that Dodd trails former Republican Rep. Rob Simmons, a possible challenger in the 2010 general election, by six points. That's down from a 16 point deficit in a Quinnipiac poll released in early April.
The survey also suggests that Dodd's approval rating has jumped five points, to 38 percent, from his all time low of 33 percent in the April poll. Fifty-three percent of Connecticut voters disapprove of the job Dodd's doing as a senator, down five points from early April.
The poll also indicates that half of Connecticut voters don't think Dodd should run for re-election, with 39 percent saying he should make a bid for another term.
Quinnipiac's April poll came right after the news of Dodd's involvement in the AIG bonus controversy. The new poll was conducted as a bill that makes it tougher for credit card issuers to raise fees and interest rates was signed into law. Dodd was one of the chief sponsors of the bill in Congress.
Dodd stood right behind President Barack Obama at last Friday's signing ceremony. Obama sent an email to over 100,000 Democratic supporters in Connecticut thanking Dodd for his work on the bill, officially known as the Credit Card Accountability, Responsibility and Disclosure Act.
"Senator Christopher Dodd's numbers are getting better but they are still lousy. He still has high negatives: About half of the voters don't trust Dodd and disapprove of the job he is doing. And he is still behind Simmons in a general election matchup," says Quinnipiac University Poll Director Douglas Schwartz. "But Dodd is an exceptionally skilled politician, and he has plenty of time. He is lucky to get this early warning more than a year before the election."
The Quinnipiac University poll was conducted May 20-25, with 1,575 Connecticut registered voters questioned by telephone. The survey's sampling error is plus or minus 2.5 percentage points.