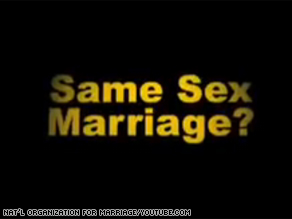 The National Organization for Marriage has launched a new ad campaign in New York State.
(CNN) – The National Organization for Marriage is out with new television and radio ads in New York as the state's senate is considering legislation that would legalize same-sex marriage.
"New York Consequences," a 30-second television spot and a 60-second radio spot, focus on hypothetical consequences of recognizing same-sex unions on equal terms with traditional marriages.
"Legalizing gay marriage has consequences for kids," TV ad says. "Massachusetts schools teach second graders that boys can marry other boys. A California public school took first graders to a same-sex wedding . . . "
"The rights of people who believe marriage means a man and a woman will no longer matter. We'll all have to accept gay marriage whether we like it to or not," both ads also say.
The ads are being supported by a $100,000 ad buy in Long Island and the Albany-Schenectady area, according the National Organization for Marriage. The initial ad buy runs from May 28 through May 31, the group also said.
The New York State Assembly recently passed a bill legalizing same-sex marriage in the state. New York Gov. David Paterson has said he will sign the bill if the state Senate also passes it.
The new ads end with a request for viewers and listeners to call their state senators and express their opposition to same-sex marriage.
Related: Bush v. Gore lawyers join forces to challenge California's Prop 8