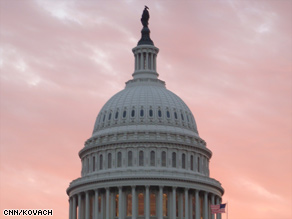 The CNN Washington Bureau's morning speed read of the top stories making news from around the country and the world.
WASHINGTON/POLITICAL
For the latest political news: www.CNNPolitics.com.
CNN: Sotomayor to face scrutiny over sensitive issues, rulings
There are likely to be two hot-button issues in Judge Sonia Sotomayor's Supreme Court confirmation hearings as senators gauge not only her positions but also some controversial comments she has made.
CNN: Source: Obama's pick wasn't pegged to Scalia
Contrary to conventional wisdom, President Obama was not looking for someone to balance the more flamboyant conservative firepower of Justice Antonin Scalia, according to one senior administration official involved in the process of picking, vetting and promoting the nomination of Judge Sonia Sotomayor.
CNN: Gingrich: Sotomayor 'racist,' should withdraw nomination
Rush Limbaugh isn't the only one calling Sonia Sotomayor a racist. Newt Gingrich is, too — and he's demanding that Obama's pick to the Supreme Court withdraw her nomination.
CNN: Burris: Recordings show no wrongdoing in appointment
Embattled Sen. Roland Burris insisted Wednesday that recordings of secretly taped conversations between him and former Illinois Gov. Rod Blagojevich's brother show no evidence of corruption in his U.S. Senate appointment.
CNN: Durbin won't support Burris in 2010
Sen. Dick Durbin repeated Wednesday that he would not support his colleague from Illinois, Sen. Roland Burris, for re-election in 2010.
CNN: Sestak: 'I intend to get in this race'
Democratic Rep. Joe Sestak told CNN Wednesday he intends to challenge Sen. Arlen Specter in a Pennsylvania Democratic primary pending a discussion with his wife and young daughter.
CNN: Fundraiser-in-Chief continues Western swing
One day after President Obama was the headliner at a fundraiser at Caesar's Palace in Las Vegas for Senate Majority Leader Harry Reid, he heads tonight to Hollywood for two fundraisers for the Democratic Party.
Washington Post: U.S. Weighs Single Agency to Regulate Banking Industry
Senior administration officials are considering the creation of a single agency to regulate the banking industry, replacing a patchwork of agencies that failed to prevent banks from falling into the worst financial crisis since the Great Depression, sources said.
NYT: Warring Sides on Health Care Carry Their Fight to TV and Radio Ads
The battle over the future of health care has taken to the airwaves, with interest groups spending hundreds of thousands of dollars on television and radio advertisements supporting or attacking legislation they expect to emerge from Congress.
Chicago Tribune: Abortion views hard to judge
President Barack Obama's nomination of Judge Sonia Sotomayor for the Supreme Court has provoked concern among advocates for abortion rights, who say they have seen no evidence she supports legal abortion.
Washington Post: Review of Government Secrecy Ordered
President Obama directed his national security adviser and senior Cabinet officials yesterday to examine whether the government keeps too much information secret.
Chicago Tribune: Rod and Patti Blagojevich's Washington, D.C., condominium is for sale
Rod Blagojevich slept here. And you can too! The former Illinois governor and his wife, Patti, have put their Washington, D.C., condominium on the market. Asking price for the two-bedroom, two-bath condo: $570,000
NATIONAL
For the latest national news: www.CNN.com.
CNN: 'Tell somebody,' if you're thinking of suicide, says general
The 101st Airborne's senior commander in effect ordered his soldiers Wednesday not to commit suicide, a plea that came after 11 suicides since January 1, two of them in the past week.
CNN: Parents clash with state, kids in medical decisions
The case of Daniel Hauser, a Minnesota teenager whose family rejected chemotherapy based on religious beliefs, raised questions about the rights of parents in determining medical treatments for their children. On Tuesday, the family consented to chemotherapy for the 13-year-old to treat his Hodgkin's lymphoma after the boy's tumor grew.
CNN: Bush v. Gore lawyers launch new same-sex marriage appeal
Opponents of California's voter-approved ban on same-sex marriages launched a new court challenge Wednesday, led by lawyers who were on opposite sides of the case that settled the 2000 presidential race.
LA Times: FBI planning a bigger role in terrorism fight
The FBI and Justice Department plan to significantly expand their role in global counter-terrorism operations, part of a U.S. policy shift that will replace a CIA-dominated system of clandestine detentions and interrogations with one built around transparent investigations and prosecutions.
NYT: For Teenagers, Hello Means 'How About a Hug?'
There is so much hugging at Pascack Hills High School in Montvale, N.J., that students have broken down the hugs by type:
USA Today: Checking fingerprints when a person has none
Before they can enter the USA, virtually all non-U.S. citizens 14 to 79 have their fingerprints screened at the airport or seaport to confirm their identity and make sure they're not a security threat. But what if you don't have fingerprints?
Boston Globe: Is Obama still a hit with designers?
Last month, as he cleaned up his Denver print shop, Lindsey Kuhn could not help brooding over the meaning of "punk." A poster artist, he needed to create a design for the city's Punk Rocks concert, something that screamed rebellion, like the bands on the roster. Then it hit him: Barack Obama.
Times of London: Jorn Hurum: I paid $750,000 for Ida the fossil and have no regrets
The palaeontologist who captured the public imagination — and was subjected to professional condemnation — with Ida the fossil disclosed yesterday that he paid nearly $750,000 (£465,000) for the specimen.
INTERNATIONAL
For the latest international news: http://edition.cnn.com/
CNN: American: God asked me to protect Suu Kyi
The Myanmar court trying opposition leader Aung San Suu Kyi heard testimony Wednesday from the man who swam to her house, sparking her trial on subversion charges.
CNN: Inside Iraq: Living with the enemy
I first met Abu Wissam at the foot of his son's shallow grave. Never will he be able to erase the last image he has of his son's body.
CNN: Pakistan: Taliban near defeat in major city
The Pakistani military said Wednesday it hopes to clear Taliban militants from Mingora, a major Swat Valley city, in the next two to three days.
CNN: Mexico rescues 5 Ecuadorians adrift for weeks
The Mexican navy said Wednesday that it rescued five Ecuadorians who had been adrift without supplies in a fishing boat for more than two weeks off the coast of the southern state of Chiapas.
CNN: Clinton calls for halt to Israel's settlement activity
On the eve of President Obama's meeting with Palestinian President Mahmoud Abbas, Secretary of State Hillary Clinton said Wednesday that the Obama administration wants a complete halt to settlement activity by Israel, which she argued would help Washington's Mideast peace efforts.
NYT: S. Korea and U.S. Raise Alert Level
The South Korean and U.S. militaries were placed on heightened levels of alert and surveillance on Thursday, one day after North Korea threatened the South with a possible military attack.
BBC: Pakistani Taliban claim bombing
A deputy to Taliban leader Baitullah Mehsud told the BBC by telephone the attack was in response to the army's ongoing operation in the Swat valley.
Washington Post: Nuclear Aims By Pakistan, India Prompt U.S. Concern
Sometime next year, at a tightly guarded site south of its capital, Pakistan will be ready to start churning out a new stream of plutonium for its nuclear arsenal, which will eventually include warheads for ballistic missiles and cruise missiles capable of being launched from ships, submarines or aircraft.
NYT: To Protect an Ancient City, China Moves to Raze It
A thousand years ago, the northern and southern branches of the Silk Road converged at this oasis town near the western edge of the Taklamakan Desert. Traders from Delhi and Samarkand, wearied by frigid treks through the world's most daunting mountain ranges, unloaded their pack horses here and sold saffron and lutes along the city's cramped streets. Chinese traders, their camels laden with silk and porcelain, did the same.
Washington Post: Backers of Jewish Settlements Put Squeeze on Netanyahu
Supporters of Jewish settlements in the occupied West Bank are increasing the pressure on Prime Minister Binyamin Netanyahu as he steers between a government coalition that supports continued building in the area and President Obama's demand that it stop.
BBC: New appeal over kidnapped Britons
Five British men held hostage in Iraq for almost two years should be released immediately and unconditionally, the UK foreign secretary has said.
BUSINESS
For the latest business news: www.CNNMoney.com.
CNN: For GM, bankruptcy will be a two-edged sword
A bankruptcy filing for General Motors could come in the next few days, now that GM bondholders have rejected a proposed swap of $27 billion in unsecured company debt for 10% of GM's stock.
CNN: Hedge fund firm Pequot shuts down
Prominent hedge fund firm Pequot Capital told investors Wednesday it will shut down because of a reopened government probe into possible insider trading.
CNN: Surprise! There are no more surprises
Now that more economists are willing to declare that the recession will be over by the end of this year, the stunning market rally that started in March makes a little more sense.
LA Times: Chevron CEO clashes with activists at annual meeting
In a combative and sometimes colorful annual meeting, Chevron's chief executive and chairman exchanged barbs with activists over pollution in the Amazon rain forest and the company's human rights record, twice scolding speakers who addressed executives.
NYT: Talks Fail to Secure Deal on Loan for G.M.'s European Unit
In a negotiating session here that stretched until nearly 5 a.m. Thursday, German and American negotiators failed to agree on a crucial bridge loan to sustain Opel and the rest of the European operations of General Motors in the event the beleaguered automaker files for bankruptcy.
NYT: Chrysler Cures a Bankruptcy, but Tests Loom
When President Obama announced the government's reorganization plan for Chrysler in late April, he promised the bankruptcy would be "quick," "efficient," and "controlled."
LA Times: GM might leave an opening on the Dow Jones industrial average
Now that a trip to Bankruptcy Court has become a near-certainty for General Motors Corp., the automaker's removal from the Dow Jones industrial average also appears all but inevitable.
In Case You Missed It
To watch the latest interviews and reporting: http://www.cnn.com/video.
CNN: Baghdad's thieves market
CNN's Cal Perry visits an open-air black market in Baghdad where you can buy anything from weapons to bootleg DVDs.
CNN: Sink that ship
Watch a ship sink in under two minutes. CNN's Jeanne Moos fishes for an explosive angle.
CNN: Biden ribs Obama
Vice President Biden couldn't help but take a dig at President Obama when his teleprompter fell down Tuesday.
Subscribe to the CNN=Politics DAILY podcast at http://www.cnn.com/politicalpodcast.
And now stay posted on the latest from the campaign trail by downloading the CNN=Politics SCREENSAVER at http://www.CNN.com/situationroom.