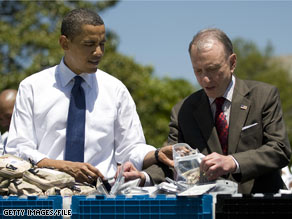 New Democrat Sen. Arlen Specter, pictured in this file photo with the president at a White House event, has lost ground against his likely Republican challenger in a new poll.
(CNN) - A new poll of Pennsylvania voters suggests that Sen. Arlen Specter's lead over his most likely Republican challenger in next year's re-election battle is shrinking.
A Quinnipiac University poll released Thursday indicates that Specter tops former Rep. Pat Toomey by nine points, 46 percent to 37 percent. That's down from a 20 point lead that Specter held over Toomey in Quinnipiac's previous poll, which was released at the beginning of May, around the time that Specter switched from a Republican to a Democrat.
The poll suggests that Specter would top Rep. Joe Sestak 50 percent to 21 percent in a probable Democratic primary matchup. On Wednesday, Sestak announced that he would challenge Specter as long as his family goes along with the decision. The poll was conducted before Sestak's decision was announced.

Toomey leads Congressman Jim Gerlach 38 percent to 10 percent in a possible Republican primary, with 3 percent for anti-abortion activist Peg Luksik.
"Senator Arlen Specter's numbers have slipped since the controversy that followed his switch to the Democratic Party, but he's still better off than he would have been if he stayed a Republican and faced a tough primary challenge from former Rep. Pat Toomey," says Clay F. Richards, assistant director of the Quinnipiac University Polling Institute.
The Quinnipiac University poll was conducted May 20-26, with 1,191 Pennyslvania voters questioned by phone. The survey's sampling error is plus or minus 2.8 percentage points.