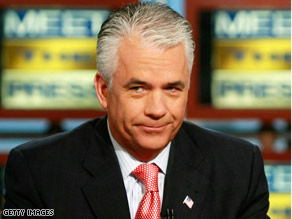 Sen. John Ensign will speak to an audience in Sioux City as part of a lecture series put on by the American Future Fund.
WASHINGTON (CNN) - A well-publicized trip by a GOP senator to Iowa can only mean one thing: it's time to add another name to the list of Republicans thinking about challenging President Obama in 2012.
Not that any presidential hopeful would admit to it yet.
Tonight, though, Nevada senator John Ensign will speak to an audience in Sioux City as part of a lecture series put on by the American Future Fund, a conservative group conventiently located in Des Moines, the capital of the state with perhaps the most influential role in the presidential nominating process. Not a bad place to make friends if you have ambitions beyond the U.S. Senate.
The group certainly didn't hurt Ensign's reputation among Iowa Republicans by hyping his visit with a radio ad calling him "a rising star in the conservative movement." The location of Ensign's speech is also illuminating: Sioux City is in the western part of the state, a Republican stronghold.
Although "Ensign" isn't exactly a household name, the Nevada senator has not been shy about raising his profile since last November. He has been among the Obama's administration's toughest critics in a party searching for its next generation of leaders. After President Obama was photographed shaking hands and smiling with Venezuelan President Hugo Chavez, Ensign told CNN's "State of the Union" that the president was being "irresponsible" by "laughing and joking" with Chavez.

Adding to his cachet is the fact that he hails from a swing state that has tilted more and more Democratic in recent cycles. But Ensign, a former veterinarian, also had the unfortunate job of steering the National Republican Senatorial Committee through the disastrous 2008 cycle, in which the party lost seven seats, with an eighth in Minnesota likely to go to Democrat Al Franken.
But that's ancient history at the moment, as the GOP is desperate to regroup. Ensign will likely be all smiles while making a pair of campaign-style stops during his heartland jaunt. He'll tour Trans Ova Genetics, an animal cloning research facility, and he'll also hold a "meet and great" at the famous Wells Blue Bunny Ice Cream Parlor in Le Mars - a tradition for any candidate visiting Iowa.
Other potential 2012ers have plans to visit Iowa in the coming weeks. Mike Huckabee, who won the Iowa caucuses last year and has already returned to the state on a book tour, will hold a fundraiser in northwest Iowa next week for Republican gubernatorial prospect Bob Vander Plaats. And Mississippi Gov. Haley Barbour, the former chairman of the Republican National Commitee, is set to headline an event for the Iowa Republican Party later this month.
UPDATE: An Ensign aide says the senator's speech, set to begin at 8 p.m. EST, will discuss "the themes of the Republican party, personal responsibility and limited government, as opposed to bailouts and big government solutions pushed by the administration."