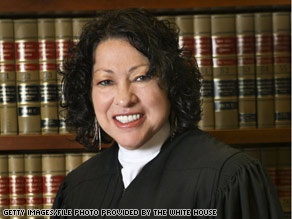 A number of Judge Sotomayor's former law clerks have sent a letter to leaders in the Senate.
(CNN) - Former law clerks to Judge Sonia Sotomayor sent a letter of support to the Senate leadership Monday, offering their "enthusiastic and wholehearted support" for the U.S. Supreme Court nominee.
The letter - addressed to Senate Majority Leader Harry Reid, D-Nevada, Minority Leader Mitch McConnell, R-Kentucky, Judiciary Committee Chairman Patrick Leahy, D-Vermont, and Alabama Sen. Jeff Sessions, the ranking Republican on the Senate Judiciary Committee - was signed by 45 of her 49 former law clerks.
The White House said it was unable to find two of the clerks, and the two others had conflicts of interest that precluded their signing the letter.
"Our group includes federal prosecutors and other government lawyers; private law firm partners and in-house corporate counsel; and legal academics and public interest lawyers," the letter said. "Although our professional experiences are diverse, we are united in our strong belief that Judge Sotomayor is a brilliant and first-rate judge who is an ideal selection for our nation's highest court."
In an interview Monday on CNN, former law clerks Lisa Zornberg and Adam Abensohn sang their former boss's praises.

"The judge is a fantastic person to work for," said Zornberg, a Harvard Law School graduate who clerked in 1997-1998 and currently serves as a U.S. attorney for the Southern District of New York. "Professionally and personally, she is a brilliant woman, she's a mentor, she's a fantastic personality."
"She's, more than anything, incredibly hard-working, incredibly conscientious," concurred Abensohn, a Georgetown Law School graduate who clerked for Sotomayor in 1996-1997 and 1998-1999 and asked her to officiate at his wedding. "Beyond being a mentor to all of her clerks professionally, personally she has been a big part of our lives."
Sotomayor, a Princeton and Yale graduate, spent six years as a district judge and a decade on the 2nd U.S. Circuit Court of Appeals.
The letter came a day after leading Senate Republicans indicated that a filibuster of Sotomayor is unlikely, though they promised to not shy from what they characterized as her troubling judicial record.
"I don't think that the need for filibuster will be there unless we have not had a chance to look at the record fully," Sen. Kay Bailey Hutchison, R-Texas, told CNN's John King on "State of the Union" on Sunday.
McConnell told King he had "no earthly idea whether (a filibuster) would be appropriate," but noted that he had consistently voted against filibustering judicial nominees during the last Democratic administration.
"I personally felt that filibustering judges was inappropriate. I always voted (to cut off debate) ... in every instance," McConnell said.
Sessions struck a similar tone, saying, "Filibusters should not be used readily and ought to be (only) for extraordinary circumstances."
A filibuster would be "unlikely, but we'll have to see how this hearing plays out," Sessions said on NBC's "Meet the Press."
But Sen. John Cornyn, R-Texas, on ABC's "This Week," responded to a question about a possible filibuster by saying, "It's really premature to say that or to speculate."
Meanwhile, one of the Senate's top Democrats, Chuck Schumer of New York, told ABC, "I think she's virtually filibuster-proof when people learn her record and her story."
But the GOP leadership on Sunday's political talk shows did not back away from criticizing Sotomayor.
McConnell took aim at her ruling in the 2008 case Ricci v. DeStefano, in which she backed the city of New Haven's decision to throw out the results of a firefighter promotion exam because almost no minorities qualified for promotions.
"Everybody is troubled ... by the Connecticut firefighters case," McConnell said.
"The Department of Justice, under the Obama administration, disagrees with the decision Justice Sotomayor made. Her colleague on that circuit, (Judge) Jose Cabranes, also appointed by President Clinton, vigorously disagreed with the decision. ... So I think it is certainly worth looking at."
The U.S. Supreme Court is set to rule on an appeal of Sotomayor's decision by the end of its current term in June.
McConnell also highlighted Sotomayor's controversial remark at a 2005 panel discussion at Duke University, where she told students that the federal Court of Appeals is where "policy is made (and) where ... the law is percolating."
"Those of us who are elected are supposed to make policy, but those of us who are appointed are supposed to apply the law," McConnell said.
Hutchison added that she was troubled "to hear someone say something like... the Court of Appeals is where we make policy in this country."
In addition, the Republicans criticized Sotomayor's 2001 speech at the University of California at Berkeley, where Sotomayor said she "would hope that a wise Latina woman, with the richness of her experiences, would more often than not reach a better conclusion than a white male who hasn't lived that life."
"It does trouble me to say that one type of old person versus another one is going to make a different or better decision," Hutchison said.
The White House and other Democratic defenders of Sotomayor have said that her remarks have been taken out of context.
Zornberg said criticism of Sotomayor's remark was misguided. "What it says to me is that a lot of people still don't know her record," she said. "I view it as a comment that is taken out of context and that, read in context, really just says what many people acknowledge is totally noncontroversial, which is that that life experience is a benefit to the process of judging cases and decision-making and that you don't leave your life experience at the door, that diversity on the court is a good thing."
She added that, in her experience, Sotomayor "sticks very closely to the rule of law. That's the kind of judge she is. She's moderate."
In his weekly radio address Saturday, President Obama warned Republicans not to play politics with Sotomayor's nomination.
"There are ... some in Washington who are attempting to draw old battle lines and playing the usual political games, pulling a few comments out of context to paint a distorted picture of Judge Sotomayor's record," Obama said.
"No nominee should be seated without rigorous evaluation and hearing; I expect nothing less. But what I hope is that we can avoid the political posturing and ideological brinksmanship that has bogged down this process, and Congress, in the past."
- CNN's Martina Stewart and Bill Mears contributed to this story.
Updated: 12:14 p.m.