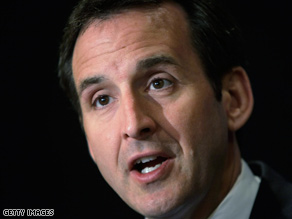 Minnesota Gov. Tim Pawlenty is looking at a possible White House run in 2012.
WASHINGTON (CNN) - Minnesota Gov. Tim Pawlenty struck a charitable tone towards Supreme Court nominee Sonia Sotomayor on Wednesday, calling for a swift confirmation hearing in the Senate and arguing that Obama's pick for the high court "should be given the benefit of the doubt because she has a compelling life story."
Those comments differ markedly from the reactions of Pawlenty's fellow 2012 prospects, Mitt Romney and Mike Huckabee, both of whom fired off statements after Sotomayor's nomination saying they were troubled by some of her past comments about the role of the judiciary.
Appearing on MSNBC, Pawlenty was asked if Sotomayor should be given a confirmation hearing "sooner rather than later."
"Absolutely," he said. "Judge Sotomayor has got a compelling life story. She has been accomplished in her legal career and her career as a judge and as a jurist.
Pawlenty did take a moment to emphasize that "we need to get the rest of the story in terms of her testimony before the Congress and vet her."
"But she should be given the benefit of the doubt because she has a compelling life story and an accomplished career," he continued. "We shouldn't jump to conclusions, particularly with overheated rhetoric."
Pawlenty said she deserves "a fair hearing" and concluded: "If she is meritorious and qualified for the job, she should be confirmed."
(Although Romney had said some of her past remarks were "troubling," he, too, said Sotomayor deserves a "complete and fair" confirmation process.)
The Minnesota Republican announced on Tuesday that he will not seek a third term next year, fueling speculation that he may run for president in 2012. Although he wasn't included in the survey, Pawlenty was asked about a CNN Poll released Tuesday showing what is essentially a three-way tie between Huckabee, Romney and Sarah Palin in a hypothetical race for the Republican nomination in 2012.
"Nobody knows who I am, so even if was included, I'm not sure I would have made a difference," he joked. "I don't think these early numbers mean anything. Whoever is in the lead a couple years out is never the winner anyhow."